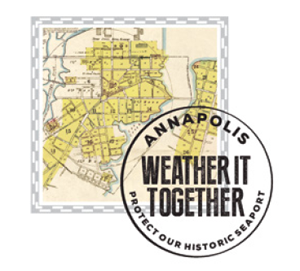 Weather It Together: Annapolis Plans for Rising Waters
Event Sponsored by: City of Annapolis and Urban Land Institute Baltimore
Mayor Michael Pantelides invites you to participate in the April 30th community planning charrette – Weather It Together: Annapolis Plans for Rising Waters. This charrette, co-sponsored by the City of Annapolis and the Urban Land Institute – Baltimore Chapter, will focus on adaptation policies, programs and strategies necessary to protect our historic seaport from the impacts of sea level rise. This program is part of the Historic Preservation Division's Preservation50 series – a national celebration of the 50th Anniversary of the National Historic Preservation Act. The charrette will be held at 110 Compromise Street from 830am to 400pm.
Program Description: Members of the public and experts in planning, design, preservation, policy, and environmental stewardship are invited to participate in this interactive program. Drop in for a few hours, or spend the day engaging with community members, city, state and federal agency staff and design, planning and resource professionals as we examine together planning & regulatory policies, educational programs and structural and non-structural methods for adapting the Annapolis waterfront to higher sea level and increased tidal flooding over the next 30 years.
Special Presentations by John Englander, Oceanographer and Sea Level Rise Consultant, representatives of the Urban Land Institute, the City of Annapolis, the Maryland Historical Trust, the Chesapeake Bay Foundation and the US Army Corps of Engineers.
Participants will engage in roundtable discussions on planning & land use, public education, building standards, adaptation alternatives for commercial and residential properties, structural diversions, natural resource protection and economic implications.
Lunch will be provided only for registrants participating in the full day of activities. An RSVP is required if you'd like to have lunch. RSVP to [email protected] by April 25, 2016
Coffee and Registration at 8:30 am     |     Programs begin at 9 am | Seating is limited, please plan on arriving early
Annapolis Plans for Rising Waters is one in a series of lectures scheduled for 2016 in celebration of Preservation50,which recognizes the 50th Anniversary of the National Historic Preservation Act of 1966, and is the reason we have a federally-certified historic preservation program in Annapolis.
[do action="blackwall-hitch"/]