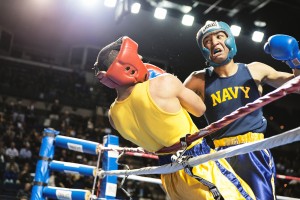 The Naval Academy's 75th Annual Brigade Boxing Championships will be held Friday, Feb. 26, at 7 p.m. in Alumni Hall. The event is open to the public and admission is free.
This year's boxing finals will be streamed live via http://livestream.com/accounts/6846224/events/4780881/.
Three midshipmen 1st Class (seniors) have the opportunity to win the Tony Rubino Four-Time Brigade Champion award at this year's finals. The midshipmen in the running include Midshipman 1st Class Samantha Glaeser, 22, of Millstadt, Ill.; Midshipman 1st Class Anthony Alexander, 25, of Detriot; Midshipman 1st Cass Danny O'Neill, 22, of Medford, N.Y. Only 19 midshipmen have accomplished this feat since the award was first given in 1970.
The Tony Rubino Four-Time Brigade Champion award is named after Tony Rubino, who arrived at the Naval Academy in 1947 as an assistant boxing coach to Spike Webb. In 1954 Rubino took over the head coaching duties and coached until 1963. He then became the deputy physical educational officer until his retirement in 1982, at which point he was honored with Professor Emeritus status.
As part of the academy's physical education program, all midshipmen are required to participate in boxing, and boxing is also offered as a club sport at the Academy. The boxing team participates in invitational competitions in the fall and spring, as well as in ongoing intramural bouts. The Brigade Boxing Championship showcases the most elite midshipmen boxers, each performing in three-round matches within their weight class. This year's finals will have roughly 10 male weight classes and three female weight classes.
The boxing program at the Naval Academy started in 1865, and today the Naval Academy's Brigade Boxing Championship generates hundreds of spectators and fans. In 1967, future Secretary of the Navy James Webb and future Marine Corps Lt. Col. Oliver North, fought each other in the welterweight category during the competition. The event also gained national attention in 2006 when the movie "Annapolis" hit theatres.
The best boxers from the competition go on to a regional competition in order to qualify for the National Collegiate Boxing Association (NCBA) Championships held each spring.
To attend this event, visitors may walk through Gate 1 (King George Street), Gate 8 (Md. Route 450) and Gate 3 (Maryland Avenue, recommended gate) of the academy and will be required to show valid, government-issued picture identification. Drivers without a Department of Defense I.D. are not permitted on Naval Academy grounds. Authorized vehicles may enter through Gate 1 (King George Street) or Gate 8 (Maryland Route 450). Handicapped visitors with proper decals and identification are permitted through Gate 1 during normal business hours and may be subject to a vehicle inspection. All bags are subject to search.
Until further notice, individuals over age 21 presenting credentials from Minnesota, Illinois, Missouri, New Mexico, Washington and identification cards from American Samoa must provide a second form of identification to enter Naval Academy grounds.
For more information on Brigade Boxing at the Naval Academy and this semester's tentative boxing schedule, please visit http://www.usnaboxing.com/. 
For more information about the Naval Academy, visit www.usna.edu or the Naval Academy's Facebook page at www.facebook.com/USNavalAcademy. 
[do action="blackwall-hitch"/]
Category: Events, LIFE IN THE AREA, NEWS, OPINION, Post To FB