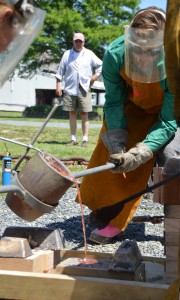 On Friday, July 12, a bronze casting demonstration will be held in the boatyard from 10am-12noon. Participants will listen to Mariner's Museum Conservator Will Hoffman as he discusses the casting replication project of one of the USS Monitor's artifacts, including iron and bronze parts. Following the discussion, Hoffman and Shepherd University professor Christian Benefiel will cast a replication of an oarlock from the Monitor in bronze using traditional pattern and molding methods. The cost for the demonstration is $30 for members and $50 for non-members, with space limited and registration required by July 10 to 410-745-4941.
From July 18 through July 21, a four-day bronze casting workshop with Christian Benefiel will have participants learning the intricacies of bronze casting, including creating molds, working the sand and furnace, and pouring the hot metal. Participants will take home a working knowledge of casting metal, along with their own creation cast in bronze. Held from 9am to 4pm on all four days, the workshop for ages 16 and up is $160 for members and $200 for non-members, plus the cost of materials (approximately $100). Space is limited, with pre-registration required by July 12 by calling 410-745-4941.
These programs take place in the boat yard and are funded in part by a grant from the Talbot County Arts Council, with revenues provided by the Maryland State Arts Council, Talbot County, and the Towns of Easton and Oxford. For more information, visit www.cbmm.org.