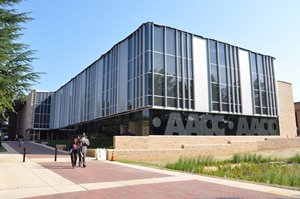 The Military/Veteran Resource Center at Anne Arundel Community College has extended its hours to Saturdays, effective immediately through May 21, the end of the spring term.
The center, located in the Andrew G. Truxal Library in Room 112 on the Arnold campus, is open on Saturdays from 9 a.m. to 2 p.m. in addition to its regular Monday through Friday hours of 9 a.m. to 5 p.m. The Saturday hours allow veterans and military personnel to study with and tutor each other in preparation for exams and to prepare for summer and fall classes. Students using the center also have access to computers, copying and faxing. The center is staffed by at least two veterans whenever it is open.
The college created the center a few years ago to give students who are serving or who have served in the military a relaxing atmosphere to meet, study, network and socialize with others who have served. It recently moved to the renovated Truxal Library where it is close to other student support services. The Student Veterans of America chapter meets there, too.
The center offers various other services, including peer support and mentoring; a lending program for books and graphing calculators, referrals to the on-campus mental health specialist, financial aid information and application assistance, support from the counseling office and quick access to counselors, disabled veteran compensation information and referrals to a military support advisor. 
For information, visit the website at http://www.aacc.edu/military or call 410-777-4838.
[do action="blackwall-hitch"/]
Category: NEWS, OPINION, Post To FB