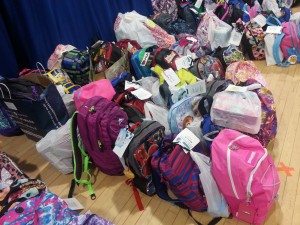 Members of Anne Arundel Community College's Community Services Committee delivered 100 backpacks to Tyler Heights Elementary School as part of the college's annual drive to help students arrive on the first day of school prepared and ready to learn.
Tyler Heights had contacted AACC initially with a request for 50 backpacks and sent a list of male and female children by grade whose families needed assistance in providing school supplies. During the past month, the elementary school received information about additional families needing help. The entire campus community participated in the drive, with 34 staff and faculty members "adopting" students, others donating additional supplies and still others providing funds to purchase supplies still needed after the drive ended. The school presented the college with a Back to School certificate for "making a difference in the life of a child."
Last year, AACC provided 53 backpacks, so this year's donation almost doubled that amount. The drive was coordinated by the college's Community Services Committee, led by chair Susie Orner, accounts receivable assistant, and Stephanie Goldenberg, coordinator of the Center for Learning through Service and president of the college's Professional and Support Staff Organization.
For more about AACC, visit www.aacc.edu.
[do action="blackwall-hitch"/]