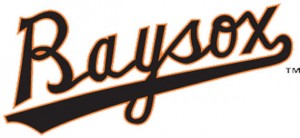 Three seventh inning errors led to two unearned runs for Altoona as the Baysox fell 7-4 in the series opener Monday night. Bowie committed a season-high four errors in the loss.
The Baysox grabbed the lead early. In the second inning after three consecutive one-out singles loaded the bases, LF Mike Yastrzemski lifted a bases-clearing triple to right-center field. Three runs scored on the play. Yastrzemski was soon to follow as CF Glynn Davis singled him home and Bowie had a 4-0 lead.
That would hold until the sixth inning. That is when Baysox starter Tim Berry saw the tables turn. Curve RF Stetson Allie doubled into the left-center field alley with the bases loaded in a four-run rally to tie the game.
An inning later, Bowie's normally steady defense would let them down. After an error by Yastrzemski allowed a baserunner an extra base, runners were at the corners with two down. Allie hit a foul pop to the right side, but 2B Garabez Rosa called off 1B Sean Halton and dropped the ball to keep the inning alive. Allie then hit a hard ground ball through the legs of Halton, and the lead run scored for the Curve. The three-error inning would end up leading to two unearned runs.
Altoona grabbed first place in the Eastern League's West with the win. Halton had a big night at the plate going 3-for-5 with two doubles in the defeat.
The series continues Tuesday, May 12th at 6:00p.m. with RHP Elih Villanueva on the hill. Coverage will begin 20-minutes prior to first pitch on 1430wnav.com and via the Tune-In Radio App by searching Bowie Baysox.
The Baysox return home Thursday, May 14th at 6:35 p.m. for the first of four games with Richmond. Fireworks follow the May 15th and 16th games. Sunday, May 17th is the annual Bark in the Park. Get your tickets over the phone at 301-805-6000 or online at baysox.com.
[do action="blackwall-hitch"/]
Category: LIFE IN THE AREA, OPINION, Sports