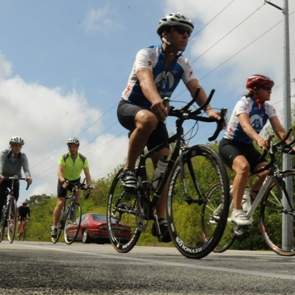 County Executive Steve Schuh has announced a $9.4 million plan to expand the South Shore Trail to Odenton.
"This investment fulfills our promise to make our County more bike-friendly," said Schuh. "The South Shore expansion will take us one step closer to creating an interconnected system of bike trails and bike lanes that will allow our citizens to bike from BWI to Shady Side."
The proposed South Shore Trail expansion will cover the distance of 14 miles. The trail will link the B&A Trail to the WB&A Trail and connect to the Annapolis Colonial Maritime Trail.  The current South Shore Trail is from Annapolis Plaza to Anne Arundel Medical Center in Annapolis.
This project provides funds to acquire property, design and construct a paved multi-use trail primarily utilizing the abandoned roadbed of the WB&A Railroad between Annapolis and Odenton. The trail will connect with the Colonial Annapolis Maritime Trail on the east end and the WB&A Trail on the west. The trail will be a component of the East Coast Greenway and the American Discovery Trail.
Multi-phase construction will consist of: Phase I (Waterbury to MD Rte. 3), Phase II (MD Rte. 3 to Odenton), Phase III (Bestgate to Eisenhower Golf Course), Phase IV (Eisenhower Golf Course to Waterbury Road) and Phase V (Bestgate Road to City of Annapolis).  Phase I from Waterbury Road to MD Rte. 3 is currently under construction with anticipated completion this fall.  Phase III from MD Rte. 3 to Sappington Station Road is in the design phase with construction anticipated in 2020.
This project was made possible through the JumpStart Anne Arundel capital project financing program. Enacted in 2015, the capital plan embraces a 30-year bond financing option. This reform has allowed Anne Arundel County to expand its capital funding program and make critical school, public safety, road and quality of life infrastructure improvements from Brooklyn Park to Pasadena to Annapolis to Odenton.