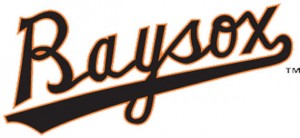 The Bowie Baysox (28-31) rallied late, but fell short in a 7-5 loss to the New Hampshire Fisher Cats (37-25) in Sunday's series finale at Northeast Delta Dental Stadium in Manchester.
Bowie trailed 7-2 in the contest before plating three runs in the sixth to cut the lead to 7-5. An error, single and hit batsmen loaded the bases with nobody out before Aderlin Rodriguez came through with an RBI single, a throwing error charged to New Hampshire C Max Pentecost allowed a run to score and a wild pitch brought home the third and final run of the inning.
New Hampshire starter Justin Dillon (1-1) gave up five runs (two earned) on five hits to go along with a walk and a strikeout in 5.0 IP. The trio of RHP Nick Hartman (1.0 IP, H, 2 K), LHP Travis Bergen (2.0 IP, 2 H) and LHPJose Fernandez (1.0 IP, K) combined to close things out and Fernandez notched his first save of the year.
The Baysox had the bases loaded with nobody out in the first inning, but were only able to push across one run which came on Ryan Mountcastle's sac fly.
In the home half of the frame, a walk and a single put two men on before Cavan Biggio plated both runners with a two-run double to give the Fisher Cats a 2-1 lead.
Jon Berti reached on a fielder's choice in the third, stole second and scored on Bo Bichette's RBI single to make it a 3-1 game in favor of the hosts.
Rodriguez's solo shot off of Dillon in the top of the fourth brought the Baysox within a run at 3-2. The home run was Rodriguez's fourth of the season.
New Hampshire broke the game open with four runs in the bottom half of the inning to take a 7-2 lead as Berti delivered the big blow in the inning with a two-out, two-run double.
Bowie starter Jayson Aquino (3-3) surrendered the seven runs on 10 hits while walking one and fanning three in 3.2 IP.
The quartet of RHP Jay Flaa (1.1 IP, 2 BB, K), LHP Luis Ysla (1.0 IP, K), LHP Reid Love (1.0 IP, 2 H, BB) and LHPLuis Gonzalez (1.0 IP, H, BB, K) combined to toss 4.1 IP of scoreless relief for the Baysox.
Corban Joseph (2-4, R), Rodriguez (3-3, HR, 2 RBI, BB, R) and Anthony Santander (2-4, R) all had multi-hit games for manager Gary Kendall's squad.
The three hits for Rodriguez are a season-high and his most since also recording three on August 27, 2017 at Altoona.
The Baysox return home to open a four-game set with the Trenton Thunder on Tuesday night at Prince Gerorge's Stadium in Bowie. First pitch is set for 6:35 p.m. with RHP Lucas Long (1-6, 4.75) on the mound for the Baysox against Trenton RHP Trevor Stephan (0-2, 4.20).