This April, Naptown Tiki Club will hit the water as Annapolis' first and only floating tiki bar. The boat will offer a one-of-a-kind outing in and around the waters of Annapolis, perfect for celebrations and corporate events or simply as a new way for groups to sightsee from the water.  
Powered by Sea Suites Cruises, Naptown Tiki Club is an expansion of the successful cruises co-founded by lifelong friends Jack Maher and Jack Walten in Washington, D.C. Following the launch of the Potomac Paddle Club in 2018, "The Jacks," as they are known, added the Potomac Tiki Club and also launched Paddle Club RVA in Richmond in 2022. The group is launching a Paddle Club in Baltimore as well. The Jacks were born and raised in Arlington, VA, and became best friends in pre-school because they shared the same first name.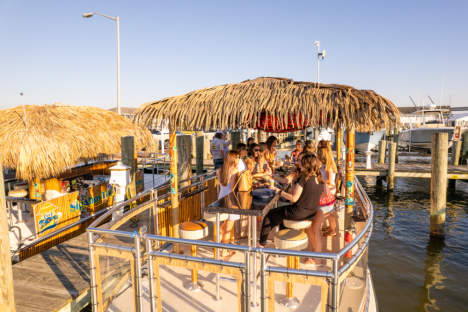 "We're excited to bring the fun to Maryland," said Walten. "Baltimore and Annapolis are iconic locations with incredible sightseeing opportunities, primed for cruising along the water. We look forward to welcoming groups at both locations that are looking for a unique outing, a new adventure in their own backyard, and a memorable way to celebrate with colleagues, friends, and family."
Naptown Tiki Club, located in Annapolis in Ego Alley, is the first and only tiki boat bar in the area. Groups of eight to 16 passengers can cruise down Ego Alley, beneath the Eastport Bridge, down Spa Creek, into the Annapolis Harbor, and past the Naval Academy. The tiki boat operates with an engine and features a semi-circular bar at its center with seating and a lounge area.
The boat is equipped with Bluetooth speakers, built-in cup holders, coolers and ice, USB charging stations, and a bathroom onboard. Each hour and 45-minute rental includes a USCG-certified Master Captain and deckhand. Passengers can bring their own food and beverages (beer, wine, and non-alcoholic).
Pricing ranges from $45 to $55 for Naptown Tiki Club. The minimum group price point starts at eight people.
For more information or to make a reservation, visit the website at https://seasuitecruises.com or Instagram  and @naptowntikiclub.