The Annapolis Maritime Museum holds its annual Winter Lecture Series over eight consecutive Thursday evenings at 7 p.m. from mid-January through early March. You will be challenged to question and to learn by engaging speakers on diverse topics, including maritime history, local history, science, and maritime art.

The 2023 series will be held in person at the Museum Campus (723 Second Street, Annapolis, MD 21403). Registration fee of $10 per person at the door – first come, first served. No pre-registration is available, and space is limited. Free admission for First Mate members ($150) and above.
Want to attend this year's series for free? Become a member today!
The 2023 Winter Lecture Series is presented by JP Morgan Private Bank and Homestead Gardens.
Complete Schedule:
February 16 | 7 pm | Cartoonist at Sea: Two Years Sailing the World Through Photographs and Cartoons
For over twenty years, Jim Toomey has been bringing the sea into the homes of millions of newspaper readers through his comic strip Sherman's Lagoon. Jim will discuss what inspired him to draw a comic strip set under the sea, and with a live-drawing demonstration, he'll demonstrate how he creates his comic strip.
In the second part of his talk, Jim will discuss his experiences living on a sailboat for two years with his wife, Valerie, their two kids and the family dog, and how he managed to continue publishing a daily comic strip about the ocean while living on the ocean.
Presenter: Jim Toomey | Writer & Cartoonist 
February 23 | 7 pm | Deadly Gamble: The Wreck of the Levin J. Marvel
The 128' schooner Levin J. Marvel foundered in Herring Bay in southern Anne Arundel County on August 12, 1955. The three-masted ship was a carrier converted to a passenger cruiser. The captain was returning to Annapolis from an Eastern Shore cruise with 23 passengers and four crew aboard when he encountered the wind field of Hurricane Connie. With no auxiliary power and canvas aloft, the captain decided to run before the wind to anchor off Fairhaven.
The old ship was in poor condition, to begin with, and the wind and waves of the storm proved fatal to it. There was no lifeboat, so 27 people fought for their lives after being swept from the vessel about a mile offshore. They struggled for several hours, and finally, the first survivor raised the alarm in North Beach. The community set into motion a dramatic and daring rescue response. In the end, over half were killed in the wreck.
The incident was shocking. An inexperienced captain took a decrepit ship with unwitting passengers into a hurricane. Manslaughter charges against the captain were soon filed. Coast Guard and Capitol Hill speedily drafted legislation that regulates small passenger vessels to this day.
This presentation features dramatic slides outlining the story, the heroism and the aftermath of the tragedy.
Presenter: Kathy Bergren Smith | Author & Photo-Journalist
MARCH 2 | 7 pm | Sea Turtles and Their Hunters in the Caribbean: Lessons on Sustainability from the Cayman Islands to the Chesapeake Bay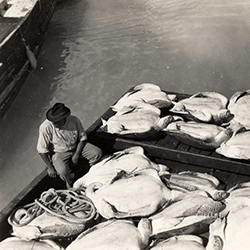 A century ago, sea turtles were once an extraordinarily desirable commodity for food and decoration worldwide. In this lecture, participants will learn why the Caribbean turtle fishery ended and how efforts to save turtles reveal important lessons about sustainability for other waterscapes, including the Chesapeake Bay.
Presenter: Dr. Sharika D. Crawford | Professor of History, U.S. Naval Academy