An Arundel High School senior, a North County High School freshman, and a Rockbridge Academy junior shared the Grand Award  at the 52nd annual Anne Arundel County Regional Science and Engineering Expo last night, in the process earning the right for all three to represent Anne Arundel County Public Schools at the International Science and Engineering Fair (Intel ISEF), which will be held in Phoenix in May.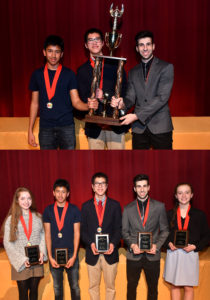 Arundel High School's Andrew Karam, who also shared the Grand Award last year, will return to Intel ISEF with his project, "Body Anomaly Detection through 3D Body Scanning and Machine Learning." Andrew created a three-dimensional scanner and computer program to identify and monitor skin anomalies. The Body Anomaly Detection System will assist persons in the medical field to identify changes in the human body using a computer program instead of human interpretation.
North County High School's Aaban Syed's "Fly Ash Sustainability" project earned him a share of the award in his first high school attempt. Aaban's project focused on the reuse of fly ash, a coal byproduct, and dredged soils by possibly transforming them into usable construction materials.
Rockbridge Academy's Ryan McDowell's project, "Using Current Draw Analysis to Identify Malicious Firmware in Solid State Drives" examined new avenues through which to detect industrial-level encryption.
More than 400 projects – a 33 percent increase from last year – in 20 categories presented by young science stars from across the county in grades 6 through 12 were entered in the expo. Students won awards and prizes worth thousands of dollars from organizations such as Armed Forces Communications Association, Anne Arundel Community College, Defense Spectrum Organization, Educational Systems Federal Credit Union, Intel, International Council on Systems Engineering, Society of Toxicology, Society of Women Engineers, and the US Navy/US Marine Corps Office of Naval Research.
South River High School's Ellie Fahey won a Grand Award Honorable Mention for her project, "Using Delay Tolerant Networks (DTN) for Expanding Medical Coverage to Remote Locations. Arundel High School's Josie Billett also earned a Grand Award Honorable Mention for "The Kidney Project."
The Anne Arundel County Regional Science and Engineering Expo is dedicated to promoting science education and recognizing and rewarding student achievement in science. In addition to the grand award winners, approximately 100 county middle and high school students earned first-place awards at the expo, ranging from special awards from community organizations to category awards based on guidelines from Intel ISEF.