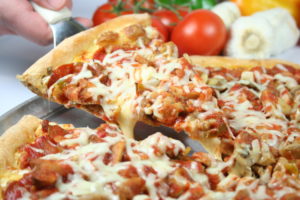 Grotto Pizza has concluded its observance of National Pizza Month by choosing the winner in its "Create Your Own Pizza Competition."
After reviewing 40 submissions from customers throughout Maryland, Delaware and Pennsylvania, the family-owned restaurant chain narrowed the choices to five. These finalists were ranked during a special event at Grotto Pizza Columbia by the following celebrity judges:
Dara Bunjon (Dara Does It. – Creative Solutions for the Food Industry and diningdish.net),
Gina Crash (Co-host; Today's 101.9 Morning Show, Today's 101.9 FM),
Darren M. Haynes (Sports Director/Anchor, WUSA9—Washington),
Franchon Crews Dezurn (WBC Super Middleweight World Champion; "The Heavy Hitting Diva") and
Jermaine Lewis (Baltimore Ravens Alumni, Super Bowl XXXV).
By popular consensus, the champion was the Swirl of Fire pizza with banana peppers, sausage and a spicy sauce. This winning recipe was submitted by Erin Glass (37) of Timonium, Md., who "love[s] to cook and dabble with recipes" in her spare time.
"I have been a Grotto Pizza fan since the 1980s and it gives me great satisfaction to know that I helped to create a new pizza item," said Glass who is employed as the fitness director at Brightwood Retirement Community in Lutherville.
"Each summer, my family would vacation at the beach and we would go to Grotto Pizza either in Rehoboth or in Dewey. We even bought the pizza holder so when we went home we would still have memories," Glass explained.
"Recently, my parents have moved to Lewes and we visit Grotto Pizza more frequently."
In fact, Glass' parents were her inspiration for the contest.
"My mother saw the contest advertised and immediately encouraged me to participate," Glass added. "My dad loves spicy, hot foods, so I was thinking of him when I created the Swirl of Fire ingredients. I am glad everyone agrees that it is a winner and I think he would love it too."
Glass also submitted a second entry: the Fall'n for Brie pizza – with ham, brie and apples – which took 5th place honors. "I know that Grotto Pizza offers a seasonal menu and I wanted to create an autumn-themed pizza," she explained.
The three other finalists were as follows:
2nd place: Coastal Crab – white pizza with crab and Old Bay seasoning
3rd place: Ultimate Burger – ground beef, bacon and bleu cheese
4th place: Big Fat Greek – spinach, sliced red onion, garlic, Kalamata olives, pizza cheese and feta cheese
Coming soon, Grotto Pizza will add the Swirl of Fire pizza to its menu, recognizing it as the "2018 National Pizza Month – Pizza Creation Contest Winner, created by Erin Glass." Glass also will receive a $100 Grotto Pizza gift card
"This was the first time we held a recipe contest and we were very encouraged by the response," said Vinnie DiNatale, director of marketing for Grotto Pizza, Inc. "Overall, it's empowering for our customers to know that we value their feedback – so much so that they can be responsible for the next legendary taste on our menu."
Grotto Pizza has a location in Gambrills (2404 Brandermill Blvd., 21054). Hours are Sunday through Thursday, from 11 a.m. to 11 p.m., and Friday and Saturday, from 11 a.m. to 1 a.m. For more information, visit www.grottopizza.com or visit its Facebook and Twitter pages at GrottoPizzaDE.
Category: Businesses, LIFE IN THE AREA, Local News, NEWS, Post To FB