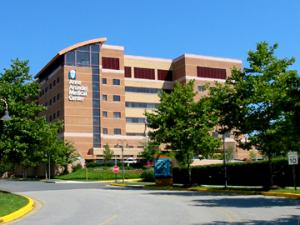 Anne Arundel Medical Center (AAMC) was awarded an 'A' from The Leapfrog Group's Fall 2018 Hospital Safety Grade. The designation recognizes AAMC's efforts in protecting patients from harm and meeting the highest safety standards in the U.S.
The flagship Leapfrog Hospital Survey collects and transparently reports hospital performance, empowering consumers to find the highest-value care and giving consumers the lifesaving information they need to make informed decisions. The Safety Grade assigns an A, B, C, D or F grade to hospitals across the country based on their performance in preventing medical errors, infections and other harms among patients in their care.
"Every day people are faced with the important decision of where to receive medical care," said Victoria Bayless, AAMC president and CEO. "This designation illustrates that patient safety is ingrained in our culture and it also recognizes the strides we have made to streamline processes to offer safe, high-quality care. Patients can trust that when choosing Anne Arundel Medical Center they are receiving the best care available."
"Leapfrog's Hospital Safety Grades recognize hospitals like Anne Arundel Medical Center that focus on advancing patient safety," said Leah Binder, president and CEO of The Leapfrog Group. "This ranking provides an important resource for patients, and a benchmark for hospitals, to determine how care at one hospital compares to others in a region. Hospitals that earn an A Hospital Safety Grade deserve to be recognized for their efforts in preventing medical harm and errors."
Developed under the guidance of a national expert panel, the Leapfrog Hospital Safety Grade uses 28 measures of publicly available hospital safety data to assign grades to more than 2,600 U.S. hospitals twice per year. The Hospital Safety Grade's methodology is peer-reviewed and grades are free to the public.
AAMC was one of 855 hospitals across the U.S. awarded an A in the fall 2018 update of grades. To see AAMC's full grade details, and to access patient tips for staying safe in the hospital, visit www.hospitalsafetygrade.org.
Category: Businesses, LIFE IN THE AREA, Local News, NEWS