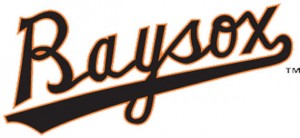 LHP Bruce Zimmermann held the Hartford Yard Goats to a run over five innings to help the Bowie Baysox sweep a rain-shortened series with a 3-1 win in six innings in front of 6,530 at Dunkin' Donuts Park Sunday evening.
In his first start since July 27 with Double-A the Double-A Mississippi Braves, the lefty made his first start as a member of the Baltimore Orioles farm system. After allowing a first-inning run, Zimmermann scattered three hits over the final four innings, striking out five Yard Goats (53-63).

Zimmermann evaded a couple potential Hartford threats through the middle innings of the scheduled doubleheader's first game. After a fielding error placed a runner on second base with one out in the third inning, the native Marylander needed seven pitches to strike Dom Nunez out swinging and Roberto Ramos to fly out to Ryan McKenna in center field. Hartford led off the fourth inning with a pair of singles, but Zimmermann retired Brian Mundell, Brandon Bednar and Nelson Molina in order to prevent any further offensive threats. Ramos would step into the box as the tying run in the fifth inning, but struck out on four pitches to make the first game official.
All of the Baysox (54-62) offense came in the first inning during an immediate three-run rally. Hartford starter Ryan Castellani walked four of the first five batters, with an Aderlin Rodriguez sacrifice fly being the only non-walk. The 70th RBI for the first baseman scored Ryan McKenna to put the visitors on top early. After a Yusniel Diaz walk, Anderson Feliz lined a RBI single to left field to plate Corban Joseph, while Rylan Bannon lifted the inning's second sacrifice fly to center field to score Ryan Mountcastle.
Game two of the doubleheader was cancelled after a torrential storm that delayed action in game one for more than one hour. It will not be rescheduled, which means that the Baysox return home Tuesday night for a doubleheader with the Richmond Flying Squirrels. Game one begins at 6:05 p.m. from Prince George's Stadium, with another Dollar Dog Night and pregame Happy Hour. All hot dogs are $1, while draft beers will be sold for $2. Pantera's Terry Glaze will also be performing live in the left field picnic area prior to the game.
Category: LIFE IN THE AREA, Sports