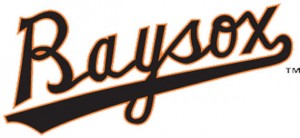 The top five batters collected 11 hits and scored 10 runs to lead the Bowie Baysox to a 10-4 victory over the Richmond Flying Squirrels in front of 2,160 at Prince George's Stadium Wednesday night.
For the first time in the series, Bowie (56-63) jumped out to an early lead. The hosts scored in the first inning for the fourth straight game when Aderlin Rodriguez lined a 1-0 pitch from RHP Jake McCasland to right field. Corban Joseph, who reached on an error, and Ryan Mountcastle, who doubled to right field, scored. Two batters later, Austin Hays reached on a fielder's choice when second baseman John Polonius airmailed a potential double-play ball into the Bowie Dugout, scoring Rodriguez and making the score 3-0.

Bowie restarted the offense during the first three pitches of the third inning. After a Joseph bunt single down the third base line, Mountcastle lined a RBI double into the left field corner for his second two-bagger of the game. One batter later, Rodriguez drove in his third run in two at-bats by grounding a single to left field through the drawn-in infield.
Rodriguez continued his offensive showcase during his third at-bat in the fifth inning. With the hit-and-run on, Rodriguez lined a triple past a diving Dylan Davis to the left field wall. Ryan McKenna and Mountcastle scored, increasing the first baseman's total to five RBI. The team leader in RBI has 22 multi-RBI games in 2018 and set a season-high, eclipsing a four-RBI game June 13 against Trenton.
Richmond (56-63) added a pair of runs to cut the deficit to 7-3, but Bowie answered with some insurance in the seventh inning. Yusniel Diaz lined a two-out single to left field to plate McKenna. Austin Hays then followed Diaz with a single to left field, scoring Rodriguez and extending the lead to 9-3. The top five batters of the Bowie lineup went a combined 11-for-19 with 10 runs scored and eight runs batted in.
Defensively, LHP Brian Gonzalez earned his fifth Double-A win of the year, allowing three earned runs on five hits over 5.2 innings. Richmond put two runners on base in both the third and fifth innings, but Gonzalez used four of his 11 total fly ball outs to escape multiple jams. LHP Zack Muckenhirn earned his first career Double-A save by allowing one earned run over the final 3.1 innings a day after Bowie used six relievers between the two games of Tuesday's doubleheader.
The Baysox wrap up their series with Richmond Thursday night at 7:05 p.m., when RHP Dean Kremer takes the mound against Richmond RHP Chase Johnson. Thursday night is also Wizards and Mystics Night, with Bullets legend Phil Chenier signing autographs and taking photos with fans during the game.
Category: LIFE IN THE AREA, Sports