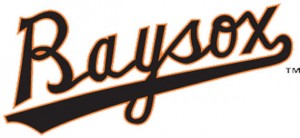 Corban Joseph homered to give Bowie the lead early and Ademar Rifaela's throw to the plate saved the lead late as the Baysox upended Akron 6-5 on Wednesday night at Canal Park.
Joseph got the Baysox off to a great start with a two-run home run in the top of the first inning. He would then double, steal third and score on an RBI-single from Aderlin Rodriguez to give the Baysox the lead for good in the third inning on top 3-2. He finished 3-for-5 with the home run and two runs scored finishing a triple shy of Bowie's first cycle in six years. The last coming from Manny Machado on August 4, 2012.

Rifaela also had a complete night. He singled twice and his baserunning helped a multiple run inning in the fourth. After singling, Rifaela was at first with two men aboard and no outs when Martin Cervenka flied out to deep center. Rifaela tagged aggressively to take second. He then had a big lead with the shift on for Erick Salcedo who singled bringing both runners home. Bowie led 5-2.
In the eighth inning though Rifaela's throw kept the Baysox in front. Akron loaded the bases with no outs down 6-3. After a borderline 3-2 pitch missed narrowly up to bring home a run, Zach Pop entered. He got a popout but with one down Alexis Pantoja singled to left. Mark Mathias tried to score the tying run from second but Rifaela's throw was there and Cervenka's outstanding tag was in time to preserve the lead.
Branden Kline entered and worked the ninth inning for his tenth save of the year. Brian Gonzalez worked five strong innings to get his second consecutive win and fourth of the season with Bowie.
The Baysox look to even the three-game series as they start August Tuesday, August 1st with a 7:05 p.m. start in Akron. LHP Brian Gonzalez get the starting nod with coverage beginning 20-minutes prior to first pitch on 1430-AM WNAV and 99.9 FM in Annapolis.
The next Baysox home game will be Navy Night, Friday, August 3rd at 7:05 p.m. as the Baysox take on Reading. The entire Plebe Class of the Naval Academy will be in attendance and Fireworks will follow the game. Get tickets at 301-464-4865 or online at baysox.com.
Category: LIFE IN THE AREA, Sports