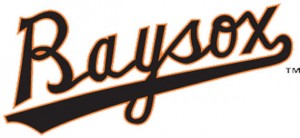 Four single runs in the final five innings helped the Richmond Flying Squirrels secure a series split and a 6-3 win over the Bowie Baysox in front of 2,091 at Prince George's Stadium Thursday night.
Richmond (57-63) jumped on top via a Matt Lipka solo home run and a Luigi Rodriguez single in the second inning, but Bowie tied the game with a pair of their own in the third inning. After an Erick Salcedo double and a pair of walks, Ryan Mountcastle beat out a potential double-play grounder to plate a run.

One batter later, Aderlin Rodriguez drove in his 15th run in the past eight contests with a single to left-center field. The first baseman has driven in eight runs during the four-game series with the Squirrels and finished the brief homestand by going 7-or-15 with five runs scored along with those eight RBI.
Salcedo continued his strong outing at the plate in the fourth inning. With two outs, the shortstop lined a single to center field, easily scoring Ryan McKenna to give the Baysox a 3-2 lead. Salcedo earned his 18th multi-hit game of 2018, 17 of those coming in the two-hit variety. During the first 11 games of August, Salcedo is batting a season-best .282 with 11 hits, six runs scored and three RBI.
The Baysox (56-64) hit the road for five games beginning tomorrow night at 7:05 p.m. at UPMC Park in Erie, PA. RHP Dillon Tate (5-4, 4.05) takes on SeaWolves RHP Alfred Gutierrez (2-2, 4.73) in search of the newcomer's first win since coming to the Baltimore organization. Bowie plays three games in Pennsylvania for the final time in 2018 before heading to The Diamond for the final two road games against the Richmond Flying Squirrels. Bowie returns home Wednesday, August 22, for two final games with Richmond before the final three games of the year against Erie. Head to the Prince George's Stadium box office orwww.baysox.com for tickets and promotional information.
Category: LIFE IN THE AREA, Sports