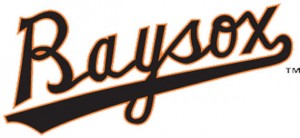 The combination of Bruce Zimmermann and Brett Cumberland propelled the Bowie Baysox to a 3-1 win over the Richmond Flying Squirrels in front of 2,493 at Prince George's Stadium Thursday night.
Making his first career start in Bowie, Zimmermann earned his second win in his young Eastern League career by holding the Squirrels to one earned run on three hits across five strong innings of work. The lefty from just outside of Baltimore recorded three 1-2-3 innings, stymying the visitors over two times through the lineup. RHP Jay Flaa, RHP Zach Pop and RHP Branden Kline combined to strike out four Flying Squirrels and allow one hit over four relief innings, with Kline recording his 13th save of the season.

Dylan Davis sent an opposite-field solo home run to right-center field to put Richmond (60-67) on top in the second inning, but the Baysox responded in the third inning. With one out, a walk and a hit-by-pitch set the table for Ryan Mountcastle, who grounded a single through the left side of the infield, scoring Rylan Bannon just ahead of the throw home.
Bowie (61-66) continued their scoring one inning later. After a one-out throwing error from second baseman C.J. Hinojosa, Cumberland launched his second career Double-A home run deep to right field, scoring Ademar Rifaela and extending the Baysox lead to 3-1 after four innings. The Baysox have won nine of their last 14 games with the win, including an 11-9 win in the 2018 season series against their neighbors from Virginia.
The five-game homestand continues with a three-game series against the Erie SeaWolves, Double-A Affiliate of the Detroit Tigers. Eastern League Postseason All-Star member Keegan Akin looks to extend his league lead in wins and strikeouts against SeaWolves RHP Alex Faedo at 7:05 p.m.
Category: LIFE IN THE AREA, Sports