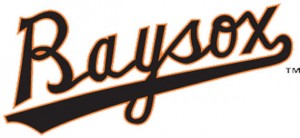 A ninth-inning rally fell just short for the Bowie Baysox as the Reading Fightin Phils earned a 7-4 victory in front of 6,588 at Prince George's Stadium Saturday night.
A pitcher's duel ensued during the first four innings, but the Baysox (51-59) used some speed to crack the scoreboard in the fifth inning. An Erick Salcedo two-out single advanced Ademar Rifaela to third base. When Rylan Bannon drew ball four, Reading catcher Deivi Grullon threw down to second base, allowing Rifaela to steal home and gift the hosts a 1-0 lead.
Reading (51-60) jumped in front with a five-run sixth inning, but Bowie mounted a rally in the eighth inning. After Ryan Mountcastle led off with a walk, Aderlin Rodriguez cranked a two-run home run deep into the left field woods for his 18th long ball of the season, cutting the deficit in half at 5-3. The visitors tacked on two more runs in the ninth inning, but the Baysox mounted a furious rally, sending the tying run to the plate after a Corban Joseph groundout scored Brett Cumberland to trim the deficit to the final margin of three runs.
LHP Chris Lee made his 2018 Baysox debut in style, striking out three Phils and retiring all six batters faced during the seventh and eighth innings. Jay Flaa entered in the ninth and allowed no runs on two hits over the final 2/3 of an inning. The righty out of North Dakota has allowed no earned runs in 11 of the past 12 outings.
The Baysox and Phils conclude their 2018 season series with a 1:35 p.m. contest Sunday afternoon. It's Margaritaville Day at the ballpark as sounds of Jimmy Buffett echo throughout the ballpark. Bowie will transform into the Baysharks, with specialty jerseys to be auctioned during the game. After the game, 10,000 pieces of candy will be dropped from a helicopter for kids 12 and under, courtesy of Pump It Up-Lanham/Bowie.
Category: LIFE IN THE AREA, Sports