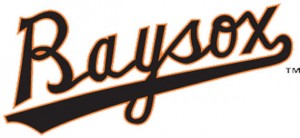 Luis Ysla struck out a season-high nine batters in six strong innings but the Baysox could never grab the lead in a tough 7-4 series opening defeat in Akron Tuesday night.
Ysla was outstanding in a losing effort. After allowing a run in the third inning, he fanned Joe Sever and Bobby Bradley to minimize the damage. After Corban Joseph homered to tie the game in the fourth, Akron pushed home an unearned run aided by two Baysox errors to send Bowie to a 2-1 deficit.
In the top of the seventh inning, the Baysox threatened but could not score. Yusniel Diaz walked and with one down went to third on a ground-rule double by Jaycob Brugman. Brugman lined a shot down the line in right that bounce up off of the foul pole. The unfortunate break may have kept Diaz from scoring the tying run. Rylan Bannon followed popping up a first pitch fastball and Martin Cervenka was robbed on a leaping catch by Joe Sever at third base down the line. Akron maintained the 2-1 lead.
The Baysox bullpen struggled as Akron registered four consecutive one-out singles to score twice in the seventh and blew the game open with a bases loaded, three-run triple from Tyler Krieger in the eighth. The Baysox got a three-run home run from Bannonto cut the lead in half in the ninth but it was not enough.
The Baysox look to even the three-game series as they start August Tuesday, August 1st with a 7:05 p.m. start in Akron. LHP Brian Gonzalez get the starting nod with coverage beginning 20-minutes prior to first pitch on 1430-AM WNAV and 99.9 FM in Annapolis.
The next Baysox home game will be Navy Night, Friday, August 3rd at 7:05 p.m. as the Baysox take on Reading. The entire Plebe Class of the Naval Academy will be in attendance and Fireworks will follow the game. Get tickets at 301-464-4865 or online at baysox.com.
Category: LIFE IN THE AREA, Sports