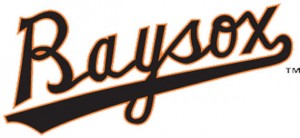 With the game tied at five, the Bowie Baysox erupted for five runs in the seventh inning to earn a 10-5 win over the Binghamton Rumble Ponies in front of 3,459 at Prince George's Stadium Wednesday afternoon.
The Rumble Ponies (48-54) opened the scoring for the third time in the series, but the Baysox once again responded with a run in the second inning. Martin Cervenka lined a one-out sacrifice fly to left field, easily scoring Aderlin Rodriguez for the catcher's 42nd RBI of the season—20 coming in the month of July.
Ryan McKenna led the defensive charge in the top of the third inning to preserve the tie. After two of the first three Pony batters singled, Kevin Taylor grounded a single to right field. Levi Michael attempted to score, but McKenna threw a laser home for his first Double-A outfield assist of his career.
The Baysox (47-55) continued gaining the momentum in the bottom half of the third inning. McKenna drew a four-pitch walk off Binghamton starter Harol Gonzalez, and then scored on a first-pitch, two-run home run from Corban Joseph. The towering shot to right field was the 12th long ball of the season for the Bowie designated hitter.
Binghamton chipped away with a run in the fifth, but the hosts once again responded in their ensuing at-bats. With two outs, Rodriguez lined an opposite-field two-run home run to right field, driving in Ryan Mountcastle on the 16th long ball for the first baseman and the third in his past four games.
After the visitors plated two runs to tie the game in the seventh, another fast response catapulted Bowie into the lead for good. Ten batters came to the plate for the Baysox and the scoring started with a throwing from shortstop Andres Gimenez, allowing Yusniel Diaz to score. One batter later, Anderson Feliz grounded a single through the left side of the infield to plate Mountcastle and give the hosts a two-run cushion.
The onslaught continued three batters later. With the bases loaded, Erick Salcedo grounded the first pitch from Matt Blackham to right field to score Rodriguez, while Feliz and Cervenka came in to score on a two-run double to left field by McKenna. Bowie batted around for the second time in as many calendar days, having sent 11 batters to the plate in the completion of Monday night's suspended game on Tuesday evening.
With a 4-3 homestand complete, the Baysox hit the road for the final series of the season in Harrisburg, Penn., to take on the Senators. After spending the weekend in Central Pennsylvania, Bowie travels to Ohio for a three-game series with the division-leading Akron RubberDucks July 31 through August 2.
Category: LIFE IN THE AREA, Sports