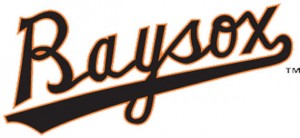 An eight-run second inning proved to be the difference as the Akron RubberDucks cruised to a 13-3 win over the Bowie Baysox in front of 1,324 at Prince George's Stadium Wednesday night.
For the second game in a row, a long ball punctuated a quick start for the Baysox (34-43). Two batters into the game, Anthony Santander launched his fourth home run of the season over the scoreboard in left-centerfield to score D'Arby Myers, who led off the game with a single.
The long ball was the 63rd of the year for the Baysox and the sixth in the first three games of the current series against Akron. Through
77 games in the 2018 season, the home run has accounted for a touch under 30 percent of the total Baysox run production.
Bowie recorded four hits in the first two innings, while Akron (44-34) scored 13 unanswered runs to pull away early. The Baysox inched closer with a seventh-inning rally. After Aderlin Rodriguez grounded a double down the left field line, Anderson Feliz lined a single to left to score the home team's third run. The single snapped a string of four games without a hit for the Baysox utility player.
On the mound, the newest addition to the Baysox roster shined brightest. LHP Zach Muckenhirn made his Double-A debut when he entered in the eighth inning and the University of North Dakota product threw two scoreless innings, striking out a pair of Duck batters and benefiting from one of two double plays for the Bowie defense.
The Baysox look to secure a split of the four-game series in the homestand finale Thursday night at 7:05 p.m. LHP Luis Ysla (4-2, 4.66) looks for his second straight win in as many starts against Akron RHP Triston McKenzie (1-2, 4.26) during the first official game of the "Es Divertido Ser Un Fan" initiative, where the Baysox will transform into los Congrejos Fantasmas de Chesapeake (The Chesapeake Ghost Crabs).