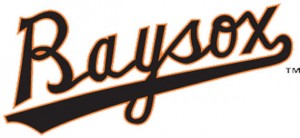 The Baysox staged several late-inning rallies, but the Portland Sea Dogs defeated the Bowie Baysox, 2-1, in front of 4,983 at Prince George's Stadium Friday night.
Josh Ockimey led the way for Portland (24-41), driving in two runs during his first two at-bats. After lining a double down the right field line in the first inning to score Jantzen Witte, the lefty launched a solo home run down the right field line to put the visitors ahead, 2-0.
The Baysox (29-35) cracked the scoreboard in the sixth inning. After Tim Beckham led off the frame with a walk, Ryan Mountcastle skied a one-out double to right-centerfield, driving in his 25th run of the season.
LHP Keegan Akin took a tough loss, but threw his seventh quality start of the season. The lefty allowed two earned runs on four hits, and struck out seven Sea Dogs—increasing his team-leading strikeout count to 78.
The Baysox continue their weekend series Saturday night at 6:35 p.m. ET. LHP Jayson Aquino (3-3, 5.61) looks for his second win of the season against the Sea Dogs during the Baysox Star Wars Night celebration.