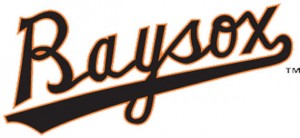 The Bowie Baysox (25-28) grabbed two runs in the top of the first and held on for a 2-1 win over the Trenton Thunder (33-22) on Saturday night at Prince George's Stadium in Bowie.
Trailing 2-1, Trenton had the leadoff runner on in the ninth, but RHP Tanner Chleborad (1.1 IP, 2 H, 2 K) got Gosuke Katoh to line into a 5-3 double play and fanned Jhalan Jackson with a runner at first to end the game. Chleborad notched his third save of the year.
The Baysox grabbed a 2-0 lead with a pair of runs in the first as D'Arby Myers led off with a single, stole second, went to third on an error and scored on Anthony Santander's RBI double. A throwing error charged to Trenton SS Abiatal Avelino allowed a second run to score on the play.
Trenton had two runners on with less than two outs in the third, fourth and fifth innings, but the Baysox were able to get out of the jam each time.
In the top of the fifth, the Thunder had runners at second and third with two away and Myers robbedBilly Fleming with a diving catch in centerfield to get Baysox starter Keegan Akin out of the inning.
Akin (6-4) allowed three hits while walking three and fanning two over five shutout innings. The southpaw has not allowed a run in his last 14.0 IP, which is the longest streak by a Baysox pitcher this season.
RHP Branden Kline (2.2 IP, 3 H, R, ER, 3 K) and Chleborad combined to close things out for the Baysox.
Trenton starter Reiver Sanmartin (0-1) gave up two runs (one earned) on four hits to go along with four strikeouts in 5.0 IP.
In the top of the eighth, Trey Amburgey reached with a one-out double and scored on Avelino's RBI double to bring Trenton within a run at 2-1.
Myers (2-4, SB, R) and Santander (2-3, 2B, RBI) both had multi-hit games for manager Gary Kendall's squad.
The series wraps up on Sunday at 1:35 p.m. as LHP Jayson Aquino (2-2, 5.25) gets the start for the Baysox against RHP Brody Koerner (0-0, 6.35).