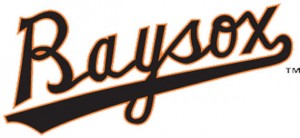 A pair of solo home runs in the seventh proved to be the difference in the game as the Bowie Baysox (13-14) dropped their third straight with a 4-2 loss to the Akron RubberDucks (17-11) on Saturday night at Prince George's Stadium in Bowie.
The Baysox had tied the game in the sixth, but Connor Marabell led off the seventh for Akron with a solo shot and Dorssys Paulinodelivered a blast of his own later in the inning to give the visitors a 4-2 edge.
Bowie starter John Means (0-4) allowed four runs on eight hits while fanning six in 6.1 IP.
RHP Jared Robinson (2.0 IP, 3 H, R, ER, K) got the win for the RubberDucks to improve to 1-0. RHP Henry Martinez (1.0 IP, H) and RHP Argenis Angulo (1.0 IP, H, K) combined to close things out for Akron and Angulo notched his first save of the year.
Akron grabbed a 2-0 lead with a pair of runs in the second as a pair of two-out singles put two men on before Daniel Salters cleared the bases with a two-run double.
Cedric Mullins' solo shot off of Akron starter Cameron Mingo brought the Baysox within a run at 2-1. The home run was Mullins' fifth of the season.
Mingo (n/d) allowed one run on two hits to go along with a strikeout in five innings of work.
In the afore-mentioned home half of the sixth, Mullins reached with a one-out bunt single, advanced to second on a groundout and scored on Corban Joseph's two-out RBI single.
Joseph (2-4, 2B, RBI) and Mullins (2-4, HR, RBI, R) both had multi-hit games for manager Gary Kendall's squad, while LHP Paul Fry (2.2 IP, 3 K) had a scoreless outing in relief.
Fry has not allowed an earned run in 11 of his 12 outings this season.
The series wraps up on Sunday at 1:35 p.m. as LHP Keegan Akin (3-2, 3.33) gets the start for the Baysox against RubberDucks LHPSean Brady (0-2, 4.50).
Category: LIFE IN THE AREA, Sports