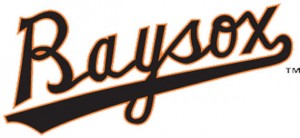 The Akron RubberDucks (16-11) used an eight-run first to pick up a 18-2 win over the Bowie Baysox (13-13) on Friday night at Prince George's Stadium in Bowie.
The Baysox have now dropped six straight against Akron and are 2-6 against the RubberDucks this season.
In the afore-mentioned first inning, Willi Castro and Joe Sever each drove in a run with an RBI double, Daniel Salters delivered a two-run double and Ka'ai Tom hit a two-run shot off of RHP Matthew Grimes (3.1 IP, 6 H, 5 R, 4 ER, 3 BB, 3 K) to open up an 8-0 lead for the RubberDucks..
Baysox starter Michael Kelly (0-2) surrendered six runs on three hits while walking three in 0.2 IP.
Bowie got on the board with a run in the second as Austin Hays led off with a double, took third on a groundout and scored onAderlin Rodriguez's RBI groundout to cut the lead to 8-1.
Connor Marabell's two-out two-run single in the fourth made it a 10-1 game in favor of Akron.
Hays' solo shot in the home half of the fourth cut the lead to 10-2. The home run was Hays' (2-4, 2B, HR, RBI, 2 R) team-leading 5thof the season.
RubberDucks starter Aaron Civale (n/d) gave up two runs on three hits to go along with five strikeouts in 4.0 IP. Civale had thrown just 48 pitches in four innings before the game entered a rain delay.
RHP Nick Pasquale (3.0 IP, 2 H, 2 K) got the win for Akron with three scoreless innings of relief for Akron.
Daniel Salters' three-run shot came as part of a four-run sixth that extended the Akron lead to 15-2.
RHP Lucas Long (1.0 IP, H) tossed a scoreless frame in relief for manager Gary Kendall's squad.
The series continues on Saturday at 6:35 p.m. as LHP John Means (0-3, 4.73) will be on the mound for Bowie against a starter yet to be determined for Akron.
Category: LIFE IN THE AREA, Sports