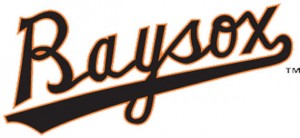 The Bowie Baysox (22-24) rallied, but fell short in a 6-4 loss to the Binghamton Rumble Ponies (24-22) in Friday's series opener at NYSEG Stadium in Binghamton.
Bowie brought the potential tying run to the plate in both the eighth and ninth innings, but RHP Tyler Bashlor(2.0 IP, H, BB, 4 K) was able to keep the visitors off the scoreboard and notch his seventh save of the year.
The Baysox grabbed a 1-0 lead in the second as Aderlin Rodriguez drew a one-out walk, advanced to second on a groundout and scored on Martin Cervenka's two-out RBI single.
Matt Oberste's two-run blast in the home half of the frame off of Baysox starter Brian Gonzalez gave the Rumble Ponies a 2-1 advantage.
A four-run third courtesy of two home runs from Champ Stuart and Peter Alonso in the inning stretched the Binghamton lead to 6-1. Stuart delivered a solo home run to start the frame, while Alonso came through with a three-run shot later in the inning.
Gonzalez (0-2) surrendered the six runs on seven hits over three innings of work.
In the top of the fifth, a pair of singles started the inning before Cedric Mullins knocked in Anderson Feliz with an RBI single to bring the Baysox within 6-2.
Mullins' single extended his hitting streak to 10 games, a season-high by a Baysox hitter.
Ryan Mountcastle's solo homer in the sixth off of Rumble Ponies starter Mickey Jannis cut the lead to 6-3. The home run was Mountcastle's second of the season.
Mullins got on base with a two-out single in the seventh, stole second, went to third on a wild pitch and scored onArmando Araiza's RBI double to cut the lead to a pair at 6-4.
Jannis (4-1) gave up four runs on eight hits while walking one and fanning three in 7.0 IP.
Cervenka (2-4, RBI) and Mullins (2-5, RBI, SB, R) both had multi-hit games for manager Gary Kendall's squad, while LHP Reid Love (3.0 IP, H, 2 K) and LHP Luis Ysla (2.0 IP, H, BB, K) combined to toss five shutout innings in relief.
The series continues on Saturday at 6:05 p.m. as RHP Hunter Harvey (1-1, 4.62) gets the start for the Baysox against Binghamton RHP Joseph Shaw (0-3, 6.10).
Category: LIFE IN THE AREA, Sports