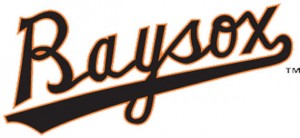 A six-run fifth inning gave Bowie the lead and the Baysox (16-16) held on for a 7-6 win over the Hartford Yard Goats (19-14) in Thursday's series opener at Prince George's Stadium in Bowie.
Trailing 7-6, Hartford had runners at first and second with one out in the ninth, but RHP Tanner Chleborad (SV, 0.2 IP, K) got Yonathan Daza to ground to first and fanned Brendan Rodgers to end the game.
Chleborad notched his first save of the year and the first of his career at the Double-A level.
LHP Paul Fry (0.2 IP, H, 2 R, 2 ER, 3 BB, 2 K) issued a one-out walk in the ninth and Scott Burcham followed with a two-run homer to left that brought Hartford within a run at 7-6.
In the afore-mentioned fifth inning, all six runs came with two outs. Martin Cervenka stood at third with two down before Cedric Mullins tied the game via an RBI triple, Austin Hays gave the Baysox the lead with a two-run blast and Aderlin Rodriguez hit a three-run jack later in the frame to stretch the Bowie lead to 7-2.
The home run was Hays' sixth of the year and Rodriguez's second.
Yard Goats starter Ryan Castellani (2-2) surrendered seven runs on nine hits to go along with a walk and a strikeout in six innings of work.
Hartford grabbed a 2-0 lead with a pair of runs in the third. A pair of singles started the frame before a fly out allowed both runners to advance into scoring position and a wild pitch charged to Baysox starter John Means followed by a Yonathan Daza RBI single brought home the runs.
The Baysox cut the lead to 2-1 with a run in the fourth as Hays led off with a single, went to third on Corban Joseph's single and scored on Ryan Mountcastle's RBI single.
Means (1-4) gave up two runs on seven hits while walking one and fanning six in 7.0 IP. The 7.0 IP marks the longest outing for Means since tossing 8.0 IP on July 1, 2017 at Akron.
Hartford cut the lead to 7-4 on Dom Nunez's two-run shot in the eighth off of RHP Matthew Grimes (0.2 IP, 2 H, 2 R, 2 ER, BB).
Cervenka (2-3, 2B, R), Hays (2-4, HR, 2 RBI, 2 R) and Mountcastle (3-4, RBI, R) all had multi-hit games for manager Gary Kendall's squad.
Mountcastle was playing his first game of the year after missing time due to a wrist injury.
The series continues on Friday at 7:05 p.m. as LHP Keegan Akin (3-3, 3.31) gets the start for the Baysox against Yard Goats RHPJesus Tinoco (4-2, 4.68).