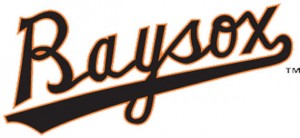 Ronnie Jebavy's two-run walk-off single with two outs in the bottom of the ninth lifted the Richmond Flying Squirrels (26-23) to a 7-6 victory over the Bowie Baysox (24-27) on Thursday night at The Diamond in Richmond.
A single and a walk put two men on for Richmond in the ninth before Jebavy came to the plate with runners at second and third and two outs and delivered the two-out heroics with a single hit back up the middle off of RHPTanner Chleborad (0.1 IP, H, K) that deflected off the second base bag and allowed the winning run to score.
RHP Jay Flaa (1.1 IP, H, 2 R, 2 ER, BB, 2 K) was dealt the loss for the Baysox and falls to 1-1 on the season.
In the top of the ninth, Corban Joseph led off with a single, took second on a walk, went to third on a wild pitch and scored on Aderlin Rodriguez's RBI groundout to give Bowie a 6-5 lead for the time being.
RHP Caleb Simpson (1.0 IP, H, R, ER, BB) got the win for Richmond to improve to 2-1.
Ali Castillo's RBI single in the fourth gave the Flying Squirrels a 1-0 lead.
Audry Perez drew a leadoff walk in the fifth, advanced to second on a single and scored on Erick Salcedo's RBI double to tie the game at one apiece.
Baysox starter Brian Gonzalez (n/d) surrendered one run on five hits to go along with three walks and seven strikeouts in five innings of work.
In the top of the sixth, Anthony Santander reached with a one-out double and scored on Ademar Rifaela's RBI single to open up a 2-1 advantage for Bowie.
The Squirrels plated four in the top of the sixth to open up a 5-2 lead. Pinch-hitter Luigi Rodriguez knocked in a run via an RBI infield single to tie the game, a wild pitch allowed a run to scamper home and Jebavy came through with a two-run double in the frame.
All four runs were charged to RHP Michael Kelly (0.2 IP, H, 4 R, 4 ER, 2 BB).
Anderson Feliz's two-run blast off of RHP Will LaMarche (1.0 IP, 2 H, 2 R, 2 ER, 2 BB, 2 K) in the top of the seventh brought the Baysox within a run at 5-4. The home run was Feliz's fourth of the season.
Bowie tied the game at five in the top of the eighth with Martin Cervenka's solo shot off of RHP Dan Slania (1.2 IP, 3 H, R, ER, 2 K) with two outs in the frame.
Rodriguez (2-4, RBI), Salcedo (2-3, 2B, RBI, R) and Santander (2-5, 2B, R) all had multi-hit games for manager Gary Kendall's squad, while RHP Matthew Grimes (1.1 IP, 2 H, K) had a scoreless outing in relief.
The Baysox return home to open a three-game set with the Trenton Thunder on Friday night at Prince George's Stadium in Bowie. First pitch is set for 7:05 p.m. with RHP Hunter Harvey (1-1, 4.15) on the mound for the Baysox against Thunder RHP Michael King (0-0, 4.09).