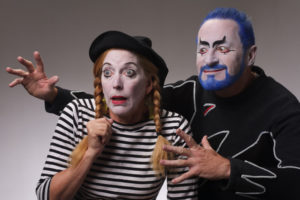 On Saturday, May 12 at 2:00pm, the Annapolis Symphony Orchestra performs this year's Family concert, "Peter and the Wolf" with Magic Circle Mime Co., under the musical direction of José-Luis Novo, at Maryland Hall for the Creative Arts. Directly following the concert, the audience is invited to stay and meet the musicians.
Without upsetting the maestro, three musicians and a conductor's assistant must outwit a fearsome wolf that threatens orchestra and audience alike.  The concert hall becomes the dramatic setting and musicians are the characters of the story as Prokofiev's exhilarating musical take springs to life, putting kids on the edge of their seats.
Magic Circle Mime Co. is regarded as one of today's premier family attractions. Their highly acclaimed performances, which unite the concert orchestra with visual theater, are consistently praised for imaginative and innovative content. Magic Circle Mime Company performs with virtually every major orchestra in North America.  Magic Circle Mime Company is the creative partnership of Maggie Petersen and Douglas MacIntyre. Both artists have backgrounds in theatre and instrumental music, and have utilized that training to create their highly regarded programs.
Major funding for the Annapolis Symphony is generously provided by Elizabeth Richebourg Rea, ezStorage, Coldwell Banker, M&T Bank, Wilmington Trust, the Maryland State Arts Council, Arts Council of Anne Arundel County, and Friends of the Annapolis Symphony Orchestra. Special funding for our School and Family concerts is provided by Rockwell International.
All tickets for "Peter and the Wolf" are $15. Tickets for this concert can be purchased at www.annapolissymphony.org, by calling 410-263-0907, or at ASO Box Office in room 204 at Maryland Hall in Annapolis, Monday through Friday, 9:30am – 5:30pm.
The Annapolis Symphony Orchestra features 70 professional musicians who perform a variety of symphonic music for audiences of all ages.  Additionally, the non-profit organization provides educational programs through its partnerships with local schools, as well as various other community outreach efforts.
Category: Events, LIFE IN THE AREA, Local News, NEWS, Post To FB