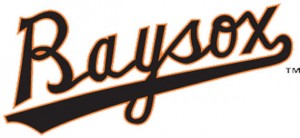 Erick Salcedo's walk-off double with two outs in the bottom of the ninth on a 3-2 pitch scored pinch-runner Martin Cervenka from first and the Bowie Baysox (4-2) won their third straight with a 5-4 victory over the Erie SeaWolves (3-3) on Tuesday night at Prince George's Stadium in Bowie.
Cervenka pinch ran for Audry Perez who had drawn a two-out walk in the frame.
RHP Kyle Dowdy (3.2 IP, H, R, ER, BB, 5 K) was dealt the loss and dropped 1-1 on the year.
LHP Luis Ysla (0.1 IP, H, BB, K) got the win for the Baysox to move to 1-0.
Erie tied the game in the top of the ninth as Sergio Alcantara knocked in a run with a two-out single that scored A.J. Simcox who had reached on an error before Alcantara scored the tying run later in the frame on a passed ball charged to Perez.
Both runs in the inning were unearned against RHP Jay Flaa (0.2 IP, H, 2 R, 0 ER).
Baysox starter John Means was lifted with runners at first and second with one out in the sixth and Bowie holding a 4-0 lead before both runners scored later in the frame on Alcantara's two-out, two-run single against LHP Luis Gonzalez (1.2 IP, 2 H, 3 K) that cut the Baysox lead to 4-2.
Means (n/d) was charged with the two runs on three hits to go along with two walks and nine strikeouts in his 6.1 IP. The nine strikeouts are the second-highest total of the southpaw's career and just one shy of his career-best 10 that was set on May 5, 2016 with Frederick (A+).
In the home half of the third, Cedric Mullins reached on an error charged to Alcantara and scored from first on Anderson Feliz's RBI double into the right centerfield gap to give the Baysox a 1-0 lead.
Adrian Marin drew a leadoff walk in the fifth, Salcedo reached on a bunt single and Mullins broke the game open with a three-run homer off of SeaWolves starter Josh Turley to make it a 4-0 game in favor of the hosts. The home run was Mullins' second of the season.
Turley (n/d) allowed four runs (three earned) on five hits while walking two and fanning four in five innings of work.
Feliz (2-4, 2B, RBI) and Salcedo (2-4, 2B, RBI, R) had a multi-hit game for manager Gary Kendall's squad.
The series wraps up on Wednesday at 6:35 p.m. as RHP Jordan Kipper (1-0, 1.29) gets the start for the Baysox against Erie RHP Sandy Baez (0-0, 0.00).
Category: LIFE IN THE AREA, Sports