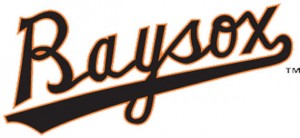 Erick Salcedo delivered his second straight walk-off hit in the bottom of the ninth to lift the Bowie Baysox (5-2) to a 5-4 win over the Erie SeaWolves (3-4) in the series finale on Wednesday night at Prince George's Stadium in Bowie.
In the last of the ninth, Mike Yastrzemski led off with a double, went to third on a passed ball and scored on Salcedo's walk-off single to lift the Baysox to their third consecutive walk-off win.
RHP Mark Ecker (1.1 IP, 2 H, 2 R, 2 ER, BB, 2 K) was dealt the loss for Erie and falls to 0-1 on the year.
LHP Paul Fry (1.0 IP, 2 K) retired the side in order in the ninth to improve to 1-0 for the Baysox.
The three-game sweep marks the first time that the Baysox have swept Erie since taking three straight from April 27-29, 2015.
Austin Hays' solo shot off of Ecker in the home half of the eighth tied the game at four apiece. The home run was Hays' second of the year.
In the top of the seventh, Troy Montgomery reached with a one-out single, went to second on a bunt single, took third on a Jake Rogers single and scored on Ficociello's sac fly to give Erie a 4-3 edge for the time being. The run was charged to Baysox RHPMatthew Grimes (2.0 IP, 4 H, R, ER, K).
The Baysox grabbed a 3-0 lead in the second on Yastrzemski's three-run blast off of Erie starter Sandy Baez. The home run was Yastrzemski's first of the season.
Erie tied the game with a trio of runs in the fourth as Herlis Rodriguez knocked in a run with an RBI single and Montgomery tied the game later in the frame via a two-out, two-run single.
Baysox starter Jordan Kipper (n/d) allowed the three runs on seven hits to go along with two walks and two strikeouts in 3.2 IP.
Baez (n/d) gave up three runs on six hits while walking one and fanning three over five innings of work.
Hays (2-4, HR, RBI, R), Adrian Marin (2-3, 2B, BB) and Yastrzemski (2-4, 2B, HR, 3 RBI, 2 R) all had multi-hit games for Bowie, while RHP Ryan Meisinger (2.1 IP, 4 K) had a scoreless outing in relief.
The Baysox will enjoy an off day on Thursday before opening up a three-game set at Harrisburg on Friday. First pitch of the series opener is set for 7:00 p.m. from FNB Field with LHP Keegan Akin (0-1, 9.00) on the mound for Bowie against Harrisburg RHP Jefry Rodriguez (0-1, 5.06).
Category: LIFE IN THE AREA, Sports