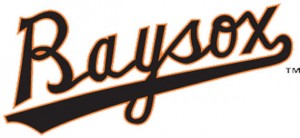 Hunter Harvey was dominant in four shutout innings but Akron ended up winning a pitcher's duel, sending Bowie to a 2-1 series opening defeat Friday night. Harvey was outstanding striking out six batters in four scoreless innings. He struck out the side in the fourth and threw a season-high 63 pitches in the game.
Bowie took the lead in the third inning. Mike Yastrzemski drove a ball the other way, over the head of the left fielder for a ground-rule double with one down. He then scored on Cedric Mullins' RBI-triple to center to out Bowie on tip 1-0. Akron starter Shao Chieng Chiang started working in his off-speed repetoire and held Bowie at bay going seven strong innings in the effort.
Akron tied the game in the fifth inning. Connor Marabell singled and then scored all the way from first base on a double to the wall near the line in right field from Andrew Calica.
Bowie got solid relief work from Tanner Chleborad (2IP, 1R) and Luis Gonzalez (retired all six faced) before Akron won it in the ninth.
Joe Sever led off the inning lifting a Luis Ysla breaking ball to the wall in left field. Yastrzemski lept up but could not bring it in as Sever doubled. Later in the inning, with the bases loaded and one down, Ysla coaxed a popup behind the mound caught off the bat of Mark Mathias. Calica then stepped up. He put a 2-2 pitch in play, chopping a ball up the middle that had eyes. It cut through the Bowie infield into centerfield bringing Akron a walk-off 2-1 win.
The Baysox (11-8) look to even the series Saturday afternoon with RHP Michael Kelly on the hill. First pitch is slated for 2:05 p.m. in Akron. Coverage will begin 20-minutes prior on 1430-AM WNAV and 99.9 FM in Annapolis.
Bowie returns home with a weekend series with Akron beginning Thursday, May 3rd at 6:35 p.m. Fireworks follow the Friday and Saturday evening games. Get tickets over phone at 301-464-4865 or online at baysox.com.
Category: LIFE IN THE AREA, Sports