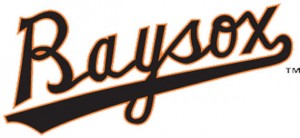 Erick Salcedo scored the winning run on a fielder's choice E1 in the bottom of the 11th inning and the Bowie Baysox (3-2) notched a 4-3 victory over the Erie SeaWolves (3-2) on a chilly Monday night at Prince George's Stadium in Bowie.
Salcedo started the inning at second, moved to third on a groundout and scored when Aderlin Rodriguez hit a line drive back to the mound that Erie RHP John Schreiber could not handle cleanly.
Schreiber (1.1 IP, 0 H, 2 R, 0 ER, 2 BB) was dealt the loss for the SeaWolves and falls to 0-1 on the year.
RHP Tanner Chleborad (1.1 IP, 3 K) struck out the side in the top of the 11th and got the win for Bowie to move to 1-0.
The two teams traded runs in the 10th inning as Erie drew a bases-loaded walk with two outs in the top half of the inning and Adrian Marin tied the game for the Baysox with an RBI fielder's choice to score Anderson Feliz in the home half.
The Baysox jumped out to an early 1-0 lead with a run in the first when Corban Joseph led off with a single, advanced to second on a hit by pitch, took third on a fielder's choice and scored on Rodriguez's sac fly.
Josh Lester gave Erie a 2-1 lead in the fifth with a two-run blast to right.
In the bottom of the sixth, Rodriguez tied the game at two apiece with a solo shot off of SeaWolves starter Tyler Alexander. The home run was Rodriguez's first of the year.
Alexander (n/d) gave up surrendered two runs on three hits while walking one and fanning five in 5.2 IP.
Bowie starter Michael Kelly (n/d) allowed two runs on three hits to go along with four walks and five strikeouts in five innings of work.
RHP Lucas Long (2.0 IP, 2 H, 4 K) and RHP Matthew Grimes (2.0 IP, H, 3 K) both had scoreless outings in relief for manager Gary Kendall's squad.
The series continues on Tuesday at 6:35 p.m. as LHP John Means (0-0, 5.40) will get the start for the Baysox against SeaWolves LHPJosh Turley (1-0, 7.71).
Category: LIFE IN THE AREA, Sports