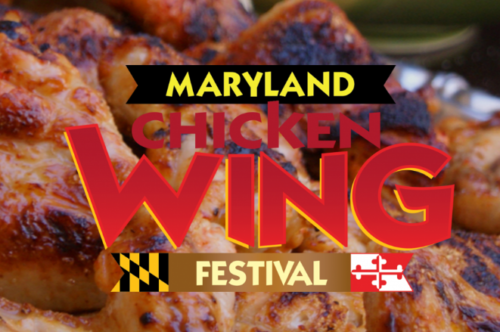 The 5th Annual Maryland Chicken Wing Festival is upon us once again!
ABC Events is bringing the 5th annual Maryland Chicken Wing Festival to the Anne Arundel County Fairgorunds on April 7th from 11am to 7pm. Come taste the best and most inventive chicken wing recipes from our area's best chefs, all while enjoying a local and regional craft beer selection and live tribute bands.
New this year:
Limited number of tickets, so purchase your tickets early
More wings!
No wing tickets needed.
Additional support for traffic and parking (entrance through the main gate off of General's Hwy)
Tribute Bands on the main stage
The Maryland Chicken Wing Festival proudly supports Camp Letts.
The fun begins at 11am, so bring the whole family… there's fun here for everyone! From food, beer, contests, music, and kids areas, the Maryland Chicken Wing Festival has got something for all ages!

Wing Vendors
Craft Beers
Flying Dog station
1) Snake Dog IPA
– One of the forefathers of Flying Dog, reformatted to a modernized hop approach.  A classic local IPA.
2) The Truth Imperial IPA
– At 8.7% and backed by a triumphant 120 IBU, this beer gets the point across loud and clear. It's the Truth.
3) Tropical Bitch Belgian IPA
– The almighty Raging Bitch takes a tropical getaway. Pineapple and orange are infused in this Belgian IPA.
Heavy Seas station
1) Loose Cannon IPA
– The iconic local favorite, and arguably the beer that started the local craft beer movement. Hopped three ways, this IPA is suitable for any occasion.
2) AmeriCannon Double Dry-Hopped Pale Ale
– The latest addition to the lineup, this double dry-hopped pale ale is zesty, yet approachable.
3) Siren Noire
– A robust, Imperial Chocolate Stout Aged in used bourbon barrels. With all this fried chicken, a little decadence is a welcomed sight.
Jailbreak station
1) Poor Righteous IPA
– An East Coast representation of the IPA. Perfectly balanced between hop and malt.
2) Feed the Monkey Hefeweizen
– Old school German heritage takes a different approach in this tweaked wheat beer. Mandarin oranges are added, eliminating the necessity of the fruit garnish.
3) Masque of Anarchy
– London is calling. It's hard to find a brown ale these days, at least a new one. Toffee and subtle chocolate are backed by a nutty finish.
Bells station
1) Two Hearted
– This brew got quite the accolade last year. #1 beer in America according to the Brewer's Association. This is literally the best IPA.
2) Oberon
– This beer signifies that warm weather is here. This isn't your stereotypical summer fruit beer, this beer has bite and a sessionability that makes it stand out nation-wide.
3) Larry's Latest Sour
– A dry-hopped kettle soured wheat beer. Tangy acidic flavors are sliced with a firm hop profile.
Terrapin station
1) Hi-5
– A California-style IPA, meaning high in hops, low in malt backbone. An approachable 5.9% ABV makes this one an easy choice for having another, and another…
2) Beyond the Galaxy IPA
– A Galaxy dry-hopped IPA. Lush in zesty, grapefruit and pine flavor, backed by a subtle tropical, pineapple finish.
3) Good to Gose
– Terrapin's latest year round beer. Grapefruit goes toe to toe with this naturally acidic, salt based wheat beer.
Atlas Brew Works station
1) Naptown Lager
– What's this? A beer for Annapolis? Yes indeed! Light, crisp, refreshing, all things suitable for a nice day in Naptown.
2) Dance of Days
– A Citra and Mosaic hopped pale wheat ale. Firm citrus flavors are matched with a pleasant, wheat finish.
3) Ponzi IPA
– A West Coast-style IPA brewed by your friends in DC. Tropical citrus-like hop characteristics flow throughout each sip.
Entertainment – Two Stages
Know Return – Kansas Tribute Band
Stefan Heuer (acoustic stage)
Earth, Wind, & Fire Tribute Band
Michael Johnson (acoustic stage)
Speed of Sound – McCartney & WINGS Tribute Band
Spencer Joyce (acoustic stage)
Hurricane Kevin (acoustic stage)
Living on a Bad Name – Bon Jovi Tribute Band

Category: Events, LIFE IN THE AREA, Local News, NEWS, Post To FB