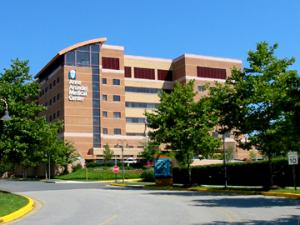 The Maryland Institute for Emergency Medical Services Systems (MIEMSS) has re-designated Anne Arundel Medical Center (AAMC) as a Level III Perinatal Referral Center for the state of Maryland. AAMC has maintained this certification since 2002.
Evaluating measures including quality performance and patient safety, MEIMSS certified that AAMC continues to meet complex medical needs of premature and critically ill infants with state-of-the-art technology, a patient- and family-centered approach, and a multidisciplinary care team. AAMC also continues to meet performance standards to accept maternal and neonatal transports from states in the mid-Atlantic region. Re-certification will be effective until 2022.
"Receiving this re-designation as a Level III Perinatal Referral Center is a testament to our commitment to offering the highest quality services and care in the region," says Monica Jones, MD, chair of Women's and Children's Services at AAMC.
"Whether a baby is born early or experiences difficulties during or soon after birth, it's critical they receive the right care, at the right time, in the right place," says Carol Lacher, clinical director of the NICU at AAMC. "We are proud to offer comprehensive services, provided by neonatal experts and nurses with extensive neonatal training, to meet some of the most complex perinatal needs."
AAMC ranks second in Maryland for number of births annually, with over 5,500 births a year. The NICU team consists of neonatologists, a pediatrician, neonatal nurse practitioners, neonatal nurses and respiratory therapists who provide life-supporting care to more than 500 premature and critically ill infants each year.
AAMC's multidisciplinary perinatal care team includes four board-certified maternal-fetal medicine physicians, board-certified OB/GYNs and specialized nurses, all certified in Electronic Fetal Monitoring (EFM), giving expectant mothers across the region access to highly skilled, around-the-clock expert care.
Related support services in the NICU include a nurse navigator, lactation consultants, dietitians, physical and speech therapists, a pediatric pharmacist, and patient family advisors.
The Perinatal Referral Center re-verification process is part of efforts by MIEMSS and its Office of Perinatal Programs to ensure high-quality perinatal health care is available and provided to the citizens of Maryland.
Category: Businesses, LIFE IN THE AREA, Local News, NEWS