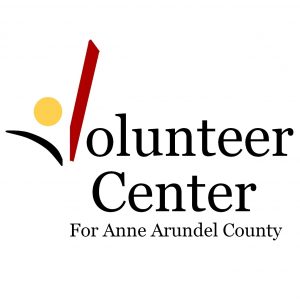 Many Volunteer positions are available through the Anne Arundel County Volunteer Center. If you do not see an opportunity below that fits your needs, contact the Volunteer Center at [email protected] or 410-897-9207. Check our Website: www.aacvc.org. A few current volunteer opportunities are listed below.
Anne Arundel Community College Center for Learning Through Service
Tuesday, February 6, 2018 (Snow date of February 13), 10 a.m. to 2 p.m., Spring 2018 Community Service Fair: The Center for Service through Learning is hosting this Fair at The Student Union Dining Hall on the Arnold Campus to provide an opportunity for agencies to meet interested students with Service-Learning requirements to fulfil for the semester.  Students will be searching for volunteer opportunities that meet their interests and class requirements.  This will also be a time to meet our Service-Learning team and to connect with other Community Partners. For more information contact Tresa Ballard at [email protected] or 410-777-2366. Web: www.aacc.edu/servicelearning. The Center for Learning Through Service at Anne Arundel Community College promotes citizenship and learning through service by providing opportunities for students, faculty and staff to serve the community.  The center works with over 100 community partners to match college volunteers with community needs.
GiGi's Playhouse Annapolis LLC
February 3, 2018 from 2-4 p.m., Grand Opening: The opening celebration of the 35th GiGi's Playhouse location (129 Lubrano Drive, Suite L104, Annapolis 21401) is open to the public and includes Playhouse tours, music, games, a ribbon cutting ceremony, and more! Nancy Gianni, GiGi's Playhouse founder, will attend the opening with the young girl whose name adorns every Playhouse location: her daughter, GiGi. GiGi was born with Down syndrome in 2003 and is the inspiration behind the creation of these Playhouses. Nancy and GiGi reside near GiGi's National Achievement Center in Hoffman Estates, Illinois and will be traveling Annapolis to attend the opening; For more information see web site at –https://gigisplayhouse.org/annapolis/.
Gigi's Playhouse mission is to increase positive awareness of Down syndrome through national campaigns, educational programs, and by empowering individuals with Down syndrome, their families and the community. GiGi's Playhouse Annapolis has educational programs throughout the week and on the weekends at designated times. Volunteers are used to support the program by hosting, interacting with the kids and by setting up and taking down materials used for the program. If you are a therapist or educator and are interested in starting or running a program, let us know! We also are looking for Literacy Tutors. Interested in helping a child learn to read? Then our literacy program is perfect for you! We have specific training for tutors which include observation hours. In addition, our Playhouse is always looking for administrative volunteers to help with thank you letters, creating books for our literacy program, database entry, and more! Our Playhouse has exciting events that are run by volunteers! For more information, contact 410-703-6592 or
Maryland Business Roundtable for Education
In order to prepare students for rewarding careers and to secure the State's economic future, moving Maryland to world-class in STEM education and workforce quality is a priority. It is increasingly apparent that all students need a strong foundation in science, technology, engineering and mathematics, regardless of their career path. Volunteers are needed to engage students in learning experiences through the Maryland Business Roundtable for Education's STEM Specialist in the Classroom and Maryland Scholars Speakers Bureau Programs. For more information about the programs, visit the website:http://thestemnet.com/speak and www.mbrt.org, or contact [email protected] or 410.788.0333.
Pascal Senior Activity Center
The Pascal Senior Center, 125 Dorsey Rd., Glen Burnie, MD 21061, is seeking volunteers skilled in using mobile devices to work one-on-one with seniors with such devices, especially cell phones, to help them learn how to use device features. Volunteer candidates should be friendly, patient, and have good communication skills.  Hours are flexible within the Senior Center's hours of operations of 8:30 a.m.–4:00 p.m. on Monday through Friday. Senior Center staff and volunteers will schedule 30-60 min. appointments based on volunteer availability. For more information, contact Nancy Allred, Manager, at 410-222-6685 or [email protected]. See web site: www.aacounty.org/Aging.
Pearlstone Center
The Pearlstone Center is a retreat center and farm with programs that enable and inspire vibrant Jewish life by engaging Jewish, faith-based, and secular organizations, individuals, and families. Pearlstone serves all ages and backgrounds throughout Baltimore, the Chesapeake region, and beyond. There is a continuing need for volunteers and interns for a variety of animal care and other farm tasks as well as for specialized projects including: Animal health, flowers & herbs, harvest handling, nutrition, landscape art projects, integrated pest management, marketing & design, compost & soil, green energy and more! For more information contact: [email protected] or 410-500-5417 & see website atwww.pearlstonecenter.org/
Quilts for Kids, Annapolis Chapter
The national organization's mission is to keep fabric out of our landfills and bring happiness to children through the simple gift of a handmade quilt. Volunteers, age 12 and up, are needed for an ongoing project to serve children in hospitals and shelters in Annapolis and surrounding communities. Basic sewing skills are necessary but instruction will be provided for quilting. Volunteers must have a sewing machine and transportation. Quilting workshops are held monthly on the third Saturday of the month from 10:30 am – 1:30 pm at the Bay Area Community Church upstairs in room 223.  Everyone is welcome!  Contact Janet Hogan at [email protected] or 410-279-2851.  See Web:http://annapolisquiltsforkids.blogspot.com
Reginald Lewis Museum of Maryland African American History & Culture
The museum is dedicated to serving the community by providing multifaceted support through meaningful interactions with history and material culture of Maryland African Americans. Volunteers are needed to assist at the Information Desk, as Docents, for Special Events, and more. There are ongoing opportunities on Saturdays and Sundays for assistance with greeting guests and patrons at the main entrance and to work with kid's activities during public hours. The minimum age for volunteers is 14. Volunteering is open to adults, seniors, college, and high school students. Service learning credit hours can be earned by high school students. We are accepting applications for the following volunteer positions: Special Event Volunteer, Administrative Assistant, Curatorial Assistant, and Visitor Services. Contact Joy Hall at 443-263-1800 or[email protected]; web site: www.lewismuseum.org.
Tennis Alliance of Anne Arundel County
The Tennis Alliance of AACo is a nonprofit community tennis organization accredited with the AACo Department of Recreation and Parks and the USTA (United States Tennis Association). The Tennis Alliance promotes tennis as a lifetime sport for health and well-being for all county residents. It is working in a public/private relationship with the County to develop the Tennis Center at Millersville Park.
College students and high school students age 15 or older are needed as volunteers to assist with our "Rally the Family" program in the public parks that introduce tennis to diverse populations. Our children's programs include lessons on sportsmanship, hard work and healthy habits; our adult programs provide information on healthy lifestyles and family nutrition. Volunteers work closely with children ages 10 and under and their parents to teach the basics of tennis through a team and games-oriented structure. The goal is for fun, fitness, and friendship through tennis — all with the gift of learning a "sport for life" that can be played at the local parks. No tennis experience or skills are required or necessary. Leadership opportunities are available for those who complete an online course and workshop. Spring and Summer volunteer opportunities begin in March 2018. For more information or to join our volunteer team, please contact Louise Thomas at[email protected] or (443) 924 6263. Website: www.TennisAllianceAAC.org.