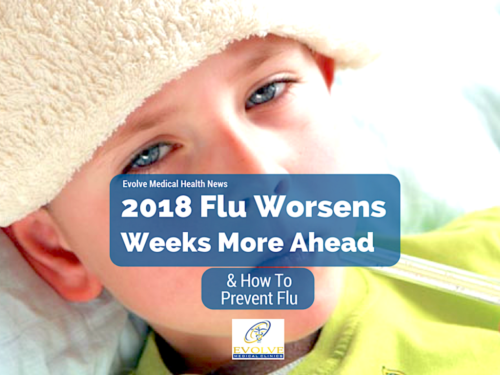 2018 FLU SEASON UPDATE: Hospitalizations for flu are at the highest level since the CDC began collecting this data — and climbing. Many flu experts predict the 2018 flu season has weeks more to go. 
In Maryland, ERs and doctors are seeing an increased percentage of people sick with the flu for the third straight week.
"As of this week, overall hospitalizations are now the highest we've seen," according to Anne Schuchat, MD, acting director, CDC.
The rates have already surpassed those of the 2014-15 season, when 710,000 Americans were hospitalized and 56,000 died.
So far this year, 53 children have died.  
The CDC estimates 34 million Americans got the flu in 2015 and this year could be worse still.
Reports of Flu Deaths Increasing
Reports of devastating outcomes are filling news outlets and the internet regularly. Today alone, new news reports include  a 7 year old Indiana girl who died overnight after being sent home from the hospital (full report); an 8 year old Queens girl who died despite starting the flu medication Tamiflu (full report) and a 9 year old boy in the UK who died just 48 hours after showing symptoms (full report). 
In the United States alone, 36,000 people die and more than 200,000 are hospitalized in an average year because of the flu.
Unfortunately, the 2018 flu season seems to be turning into a less than typical year.
Flu Season: "Many More Weeks to Go"
"Normal flu seasons last for 11-20 weeks and we just crossed the 10th week, meaning we could have up to another 10 weeks of flu season," according to Dan Jernigan, MD, director, Influenza Division, National Center for Immunization and Respiratory Diseases.
Dr. Jernigan also added "The number of deaths from pneumonia and influenza also increased this past week, from 9.1% to 9.7%. "This is not as high as where they peaked at 11.1% (in 2012), but it is possible that this season will reach or surpass."
"We have not hit our peak yet, unfortunately," CDC spokeswoman Kristen Nordlund said. "Really, the bottom line is, there is still likely many more weeks to go."
How to Avoid Getting the Flu
1. Wash Your Hands (or Use Hand Sanitizer)
This is the number one thing doctors say they do and recommend for others. "I wash my hands before and after every patient I see," says Dr. Michael Freedman of Evolve Medical. "In fact, I wash or sanitize pretty much every time I touch someone or something other than my personal items."
Use warm water and soap and scrub for at least 20 seconds.  Nancy Hughes, MS, RN, director of the Center for Occupational and Environmental Health
 in Silver Spring, Md says, "I use a paper towel to dry my hands and to turn off the faucet, especially in public bathrooms."
2. Keep Your Hands Away from Your Face
No matter how clean you think your hands may be, keep them away from your face–particularly your nose, mouth and eyes.
People constantly rub their eyes, their nose or touch their mouth. Doctors and nurses swear that keeping their hands away from their face is one of the most critical ways to avoid getting infected. 
Things we do every day and are practically subconscious are also big problems."Computer keyboards, telephones, doorknobs, pens that are given to you when you sign for a credit card purchase or in a doctor's office — all of these are surfaces that have great potential for harboring germs," says Neil Schachter, MD, professor of medicine at Mount Sinai School of Medicine in New York City and author of The Good Doctor's Guide to Colds and Flu.
Another insider tip: Be careful with lip balm. Use lip balm in a tube during flu season as opposed to something that you use your finger to apply to your lips.
3. Get Your Flu Shot
The flu shot won't prevent flu…but it will hopefully prevent you from dying (or getting hospitalized) from the flu.
This year's flu shot is, unfortunately, not particularly good. But even with that said, it's better than nothing!
According to current estimates from the CDC, this year's shot is about 30 % effective against this year's strain of the flu. 
Many people don't get the flu shot because they feel they have gotten the flu from it in years past. 
But the flu shot can not–never, ever–give you the flu. Why? Because the flu shot contains an inactivated vaccine made of killed virus. Because the viruses in this vaccine are killed (inactivated), the shot simply can't cause you to get the flu. 
People CAN develop other symptoms, though, that make them think the flu shot made them sick. According to the Mayo Clinic, these are the reasons people think the flu made them sick: 
Reaction to the vaccine.
Some people experience muscle aches and a fever for a day or two after receiving a flu shot. This may be a side effect of your body's production of protective antibodies.
The two-week window.
It takes about two weeks for the flu shot to take full effect. If you're exposed to the influenza virus shortly before or during that time period, you might catch the flu.

Mismatched flu viruses

.
In some years, the influenza viruses used for the vaccine don't match the viruses circulating during the flu season. If this occurs, your flu shot will be less effective, but may still offer some protection.
Other illnesses.
Many other diseases, such as the common cold, also produce flu-like symptoms. So you may think you have the flu when you actually don't.
While you can get the flu shot and have it still not entirely prevent flu, the odds of having serious complications like pneumonia go down when you have the shot. 
4. Live Healthy
Practice good healthy habits. Get plenty of sleep, exercise regularly, drink plenty of fluids, eat a nutritious diet and manage your stress.There is no better way to prevent flu–or to prevent other illness–other than living a healthy life rich in nutritious food and exercise. 
5. To Prevent Flu, Avoid People Coughing and Crowds
Sneezing and coughing is one of the quickest ways to spread a virus. Both a sneeze and a cough are designed to get rid of whatever is bothering your body. Unfortunately, getting rid of germs in such a violent method means spreading germs in a rather large spray of saliva, mucus, irritants and viruses.
If you see someone coughing and sneezing, if possible, move away.  
A cough can shoot out 3,000 droplets per cough–at 50 mph.

A sneeze expels up to 100,000 droplets of mucus, virus and junk at up to 100 mph! 
6. Natural Ways to Stay Healthy
Although no natural remedy has been proven to be prevent flu specifically, a number of natural or complementary approaches have been shown to help with other viruses that causes colds. 
Zinc Lozenges
"I swear by them," says Dr. Freedman of Evolve Medical. "The research is actually very clear." A sweeping review of the medical research, conducted by the Cochrane Database of Systematic Reviews, found that Zinc lozenges with 13mg of Zinc, taken every 3-4 hours, beginning on the first day of symptoms, shortened the viral illness an average of one day or more and sharply reduced the severity of the symptoms. 
Nose and Sinus Rinses
A lot of people are terrified of the Neti-Pot, which some describe as "water-boarding". Others have no problem using it. There is an alternative to Yeti-Pot called Neil-Med, which is a squirt bottle method. Using the squirt bottle takes away the passive dribble of water and just shoots it up and out. 
But be careful, experts say tap water isn't safe for nasal rinses! It has to be filtered water. 
Supplements/Herbals
According to the NIH, other approaches such as Vitamin C, Echinacea, garlic and American Ginseng have shown conflicting, mostly negative (potentially harmful) results.
What are the symptoms of flu to look for?
Symptoms usually start very suddenly and often include:
Fever

of 100.4°F to 104°F, which can reach 106°F (41°C)
Body

aches

and pain

Headache

Pain when you move your eyes.

Fatigue, a general feeling of sickness

Loss of appetite.

A

dry cough

, runny nose, and dry or sore throat.
Influenza usually does not cause symptoms in the stomach or intestines, such as vomiting and diarrhea. On the contrary, the "stomach flu" is usually associated with Norovirus or other similar virus. See previous article on Norovirus/stomach bug. 
How long is Flu Contagious?
People with flu are contagious beginning 1 day before symptoms develop and up to 5 to 10 days after becoming sick. 
Unfortunately, a lot of us have returned to work once our fever is gone, around days 3 or 4, but we remain contagious for up to a week more!
Call your doctor or go to an urgent care if:
You have an extremely high fever (104 F or higher)

You are finding it more difficult to get a good breath

Wheezing

New symptoms localized to the ear, throat, chest or sinuses

Symptoms don't go away or become more severe
Be sure to be seen within 48 hours of the onset of your fever. This is important as treatment is MOST effective if started within 48 hours!
Remember:
People are contagious from the day BEFORE symptoms start
People are contagious for 5-10 days AFTER the illness starts (days after they feel better and return to work or school.)

If you or someone in your family has sudden onset of high fever, whole body aches, chills and feels generally awful, see your provider right away. We recognize that the only anti-viral treatment available must be started within 2 days of symptom onset.
For more information, visit the Maryland Department of Health's Flu Watch page or Anne Arundel Health Department of Health's Flu Tips page.
Evolve Medical is always happy to see you as well. Same day scheduling on-line here or call 844-322-4222. Or email them at [email protected].
If you find these health and wellness updates helpful, follow Evolve Medical on Facebook, Twitter, Instagram or Google+.
Category: NEWS, Post To FB