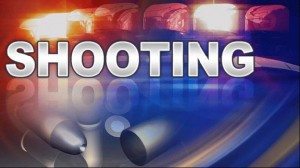 On January 1, 2018, at approximately 1:01 a.m., officers responded to a shooting at 7814 Bastille Road in Severn.  Upon arrival, officers found there was a large party at the address and located an adult male victim with a gunshot wound to his back. He was transported to shock trauma and treated for non-life threatening injuries. While investigating the incident, officers learned of a second victim, a 17 year old male who left prior to police arrival. That victim was shot in the arm and driven to St Agnes Hospital by a friend where he was treated for his non-life threatening injury.
Detectives are investigating and currently attempting to identify the suspect(s) and motive for the incident. Updates will provide when they are available. Anyone with information is asked to call the Western District Detective Unit at 410-222-6155.
Marshall University Head Football Coach John Holliday, confirmed the victim, Larry Aaron, was redshirt freshman defensive tackle Larry Aaron III, a Columbia native who attended Oakland Mills High School. He sent out a tweet offering support to Aaron's family.
It is however with a heavy heart that we bring in this new year as I send my thoughts and prayers to Larry Aaron and his entire family during this difficult time. Your @HerdFB family is here for you. #HerdStrong

— John Doc Holliday (@DocHollidayFB) January 2, 2018
Kim Dacey from WBAL-TV said that that Aaron was shot while trying to protect his girlfriend.
Larry Aaron's parents say a fight broke out near him and someone started shooting. He shielded his girlfriend and got shot in the back #wbal pic.twitter.com/V7U7V5YHri

— Kim Dacey WBAL (@kimdaceywbal) January 2, 2018