Winter Gale brings Wind Chill to 10 below
Frostbite in 30 Minutes
The National Weather Service has issued a Winter Gale warning for the Annapolis area, with wind gusts as high as 45 mph causing wind chill to as much as 10 below.
At 10 below, exposed skin will develop frostbite in as little as 30 minutes.
Know what to do if you need to help your friends and family – and share to help prevent frostbite & hypothermia injury. 
Frostbite

Frostbite is damage to body tissue caused by extreme cold.

The first symptoms of frostbite will be a loss of feeling and a white or pale appearance of the affected area. The most likely areas to be affected are the fingers, toes, ear lobes, cheeks or the tip of the nose.
If symptoms are detected, get medical help immediately!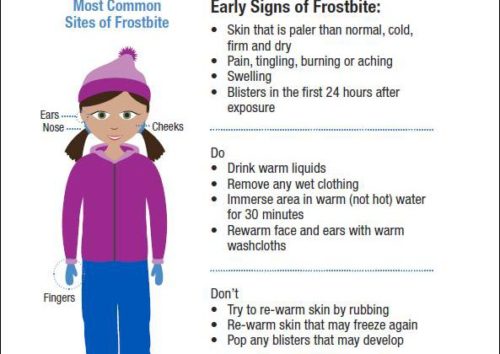 If you must wait for help, slowly re-warm affected areas. However, if the person is also showing signs of hypothermia, warm the body core before the extremities.
Hypothermia
Hypothermia is a condition brought on when the body temperature drops to less than 95°F, and it can kill. For those who
survive, there is likely to be lasting damage to the kidneys, liver and pancreas.
Warning signs of hypothermia include:
Uncontrollable shivering


Memory loss

Disorientation

Incoherence

Slurred speech

Drowsiness

Exhaustion.
Take the person's temperature. If below 95°F, seek medical care immediately!
First Aid for Frostbite
If you or a family member does develop symptoms of frostbite, it is absolutely imperative that you do NOT do certain things. And at the same time, there are certain things you CAN do which can reverse and potentially save the affected area. With the freezing cold weather we will experience tonight and tomorrow, frostbite is possible so please follow this advice.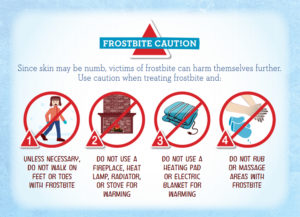 DO NOT DO THESE
Do not walk on affected feet or toes (unless absolutely necessary)

Do not use dry heat (like a heater, fireplace, stove or lamp)

Do not use a heating pad or electric blanket

Do not rub or massage the affected area
DO THIS
Get immediate medical attention for any form of frostbite other than frostnip (1st stage)

Do not thaw your skin until there is no chance they will freeze again

Protect your skin from further damage

Get out of the cold

Remove all wet clothing

Soak the frostbitten areas in warm water (99-104 degrees F). Do not use HOT water 
Soak until skin color returns to normal (about 30 minutes) or is no longer numb. 

Drink warm liquids (coffee, tea, or soup). 

Ok to use Tylenol or Ibuprofen
Expect the skin to first turn red and you will probably feel burning and tingling at first. If numbness or pain continues, or if you start to see blisters, get emergency help right away. 
Remaining Safe During a Winter Storm
Bring pets/companion animals inside during winter weather

Run water, even at a trickle, helps prevent pipes from freezing.

All fuel-burning equipment should be vented to the outside and kept clear.

Keep garage doors closed if there are water supply lines in the garage.

Open kitchen and bathroom cabinet doors to allow warmer air to circulate around the plumbing.

Go to a designated public shelter if your home loses power or heat during periods of extreme cold.

Avoid driving when conditions include sleet, freezing rain or drizzle, snow or dense fog.

Keep a disaster kit at home!

Have a smaller disaster supply kit in your vehicle.
Disaster Kit Checklist:
Water—at least a 3-day supply; one gallon per person per day
Food—at least a 3-day supply of non-perishable, easy-to-prepare food
Flashlight(s) AND batteries (don't forget the batteries!)

First aid kit

Medications (7-day supply) and medical items (hearing aids with extra batteries, glasses, contact lenses, syringes, etc.)

Multi-purpose tool

Sanitation and personal hygiene items

Copies of personal documents (medication list and pertinent medical information, proof of address, deed/lease to home, passports, birth certificates, insurance policies)

Cell phone–don't forget the chargers!

Family and emergency contact information

Extra cash

Baby supplies (bottles, formula, baby food, diapers)

Pet supplies (collar, leash, ID, food, carrier, bowl)

Tools/supplies for securing your home

Sand, rock salt or non-clumping kitty litter to make walkways and steps less slippery

Warm coats, gloves or mittens, hats, boots and extra blankets and warm clothing for all household members

Ample alternate heating methods such as fireplaces or wood- or coal-burning stoves
Stay Safe and Warm!
Reminder: Please check on your older neighbors or those with disabilities to see if they need help too. 
If you require assistance, or if you are interested in getting better primary and urgent care, Evolve Medical is located in Annapolis. Schedule a visit  on-line or call/text 844-322-4222.
If you find these health and wellness updates helpful, follow Evolve Medical on Facebook, Twitter, Instagram or Google+.
Category: LIFE IN THE AREA, NEWS, Post To FB