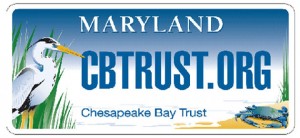 The Anne Arundel County Watershed Protection and Restoration Program (WPRP), a division of the Department of Public Works, and the Chesapeake Bay Trust announce a grant opportunity to support watershed restoration projects in Anne Arundel County.
Proposals for both small-scale and large-scale water quality improvement projects are eligible for consideration, with grants ranging from $20,000 to $300,000. Example project types include installation of rain gardens, bioswales, stream and wetland restoration, step pools, living shorelines, and green roofs.
"We are committed improving the health of our rivers and streams," said Erik Michelsen, administrator of the Watershed Protection and Restoration Program. "This grant opportunity emphasizes the role everyone can play in stewarding our natural resources and allows us to engage the entire community in our efforts to ensure a healthy Chesapeake watershed."
Nonprofit organizations such as local watershed groups; community associations; faith-based organizations; and service, youth, and civic groups are eligible and encouraged to apply for funding. Applicants must arrange a site visit with the County and the Trust prior to applying for funding.
"The Chesapeake Bay Trust is thrilled to continue our partnership with the County to engage local groups in watershed restoration projects," said Dr. Jana Davis, executive director of the Chesapeake Bay Trust. "These projects produce measurable results that both improve water quality and create healthier communities."
The deadline for applications is Thursday, December 7, 2017, at 5 pm. To arrange a site visit, which is recommended before November 10, 2017, contact Abbi Huntzinger at 410-974-2941, x106. Please visit https://cbtrust.org/anne-arundel-county-watershed-restoration to review the request for proposals and learn more.