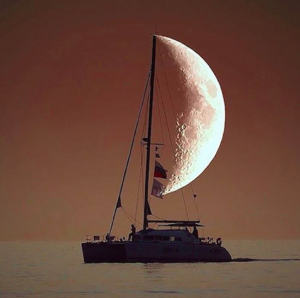 High ticket sales matched temperatures over the weekend of the fifth annual Annapolis Spring Sailboat Show. Temperatures on Saturday came close to matching record highs of 89 degrees but that did not hamper large crowds coming through the gates. Friday ticket sales set all-time records with a 30 percent increase and was followed by another record-breaking Saturday, which experienced an 19 percent gain.  Both crowds were the highest ever for their respective days.  The Sunday temperatures moderated somewhat with high cloud cover, making this outdoor in-water
boat show
a bit more comfortable. With attendance nearly matching Sunday of 2016, the overall paid attendance gain for Annapolis Spring Sailboat Show 2017 came in with a healthy growth of more than 12 percent.
"Friday was phenomenal and I love the new layout," said Tommy Smith of Sail Away Catamarans. "For a small regional
boat show
we captured more qualified leads in three days here than we did in all five days in Miami."
A new show layout featuring a complete temporary floating dock marina housing over 50 boats from 29 – 82 feet proved to be very beneficial for land and tent exhibitors, worked very well for show organizers, and flowed perfectly for show attendees. Considered to be the official kickoff for the Chesapeake sailing season, this show has shown gradual year-over-year growth each year since its humble beginnings five years ago.
"We have had a fantastic show so far," said Tim Wilbricht of Annapolis Yacht Sales. "Friday's traffic was the best I have seen and Saturday traffic was strong. In fact Friday was as good as Saturday! We met a lot of really good people. We sold three new Beneteau 48's. We are very very happy with the results."
Paul Jacobs, president and general manager of
Annapolis Boat Shows
gave much credit to area boat dealers and brokers, along with maritime exhibitors of all kinds who have supported the show and assisted in its steady growth. He stated: "This has become a real driving force for the early season maritime economy in the mid-Atlantic. We have worked through the growing pains, and it appears we have created a spring tradition in Annapolis. Not only is the show successful, but we have created a center for sailing and entertainment activity like none other in the area. Our new-boater program called First Sail Workshop registered 192 people for a short classroom orientation and an hour-and-a-half on-board sailing introduction. Cruisers University, in its new location in the Naval Academy Club at the United States Naval Academy,  has become the premier cruising school in the country, having registered over 150 boaters this weekend to learn all about living aboard a boat to explore near and distant shores. These two programs are offered twice each year serving over 500 and 300 people respectively."
Continuous live entertainment on the stage, wine and beer tastings, the third annual High School Keelboat Regatta, and a small boat demo area for kayaks, paddle boards, inflatables, small sailing boats along with yoga on SUPs, model boats, and unique docking systems rounded out this spring sailing weekend.
Next year's sailboat show will take place April 20-22, 2018.