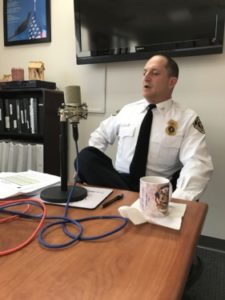 UPDATE 2: Statement from Police Chief Michael Pristoop:
It has been a sincere privilege and the honor of my professional life to lead the Annapolis Police Department and serve alongside some of the most dedicated and committed law enforcement professionals in this country. I am incredibly proud of the many public safety accomplishments that have made Annapolis a safer and stronger community. I wish the very best to our hardworking police officers and ask that our city continue to support them to build upon their progress and continue to forge strong bonds with the community we serve.
UPDATE: The Mayor has issued a brief statement:
Combating crime in Annapolis remains a priority of my administration and I am grateful for Chief Pristoop's dedication to our citizens and his commitment to protecting our city for nearly nine years. This change is not about the person, but rather about creating a new direction for policing and enforcement efforts, while generating new initiatives in our police department.
---
Annapolis City Manager Tom Andrews has fired the long-time chief of police, Michael Pristoop.
In an email obtained by Eye On Annapolis, the City Manager says the Chief will be on paid leave for the next 45 days when his employment will be terminated. The City will embark on a nationwide search for a replacement
This is to inform you that I have terminated the employment of Chief Michael Pristoop to take effect 45 days from today in accordance with the terms of his employment contract.

Chief Pristoop will be on paid administrative leave during this period.

Major Scott Baker will assume the duties of Acting Chief while a national search is conducted for a permanent replacement.
Listen to interview with Chief Pristoop on The Maryland Crabs!
CORRECTION: The Mayor's office asked us to correct the title and  first line in the article reflecting that the Mayor can only nominate an employee and not hire or fire them.