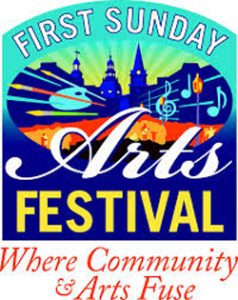 Art and Entertainment will fill the air in the Annapolis Arts District on Sunday July 3rd from 11am to 5pm as the First Sunday Arts Festival celebrates with over 130 local and regional artists and crafters showcasing a wide range of handcrafted and original items made locally. You will find  local artisan vendors on West Street between Church Circle and Lafayette Street and in Whitmore Park on Calvert Street selling handcrafted jewelry, pottery, glass, clothing, purses, cutting-boards, iron-work, wood-turnings, furniture, sculpture, photography, paintings, garden art, gourmet foods and more. This is the perfect place to find new items for your home and gifts for the special people in your lives. Plus buying "Made in America" is a great way to celebrate our nations birthday.
The day will also be packed with a wide variety of music with eight groups performing though out the day, plus face painting and balloon sculptures for the kids. The entertainment schedule includes showcasing some of Annapolis' newest young talent, international touring bands from Buenos Aires and the best in local jazz, pop, funk and R&B music.
The Entertainment Schedule (click on links for more info on performers)
Garrett Park Stage in the Great Frogs Wine Garden
11-1 Fast Eddie and the slowpokes  2013 WAMMIE nominated Best Blues/Traditional R&B Duo/Group
2-4 El Caribefunk  Currently on tour from Buenos Aires bringing you some international flavor from Brazil
Weisman Park next to the Visitors Center
12-2 Fred Hughes Trio Local jazz trio that has performed at many of the regions top jazz festivals
3-5 Michael K. Pretty Big Deal . Songwriter with a variety of pop, rock, and alternative many of which have been placed in network TV series, MTV series, and premium channel (HBO, ShowTime, etc.) series. Michael K.'s original song "After the Rain" was used in the Tim Disney major motion picture American Violet (2008)
City Gate Park
2-4  Damian Keavney  solo acoustic fingerstyle guitarist
Jeremy Ragsdale Voice Studio Stage at Whitmore Park
12-1 Daphine Eckman Annapolis based 14 year old songwriter
1:30-2:30 No Capes Annapolis based Alternative/indie/funk band
3-5 JRVS Presents: The Lead Singer! Student Showcase  featuring students ages 7 to 25 from Jeremy Ragsdale Voice Studio
All the restaurants in the festival area will be setting up cafe dinning and food trucks are set up by  Whitmore Park so its easy to take a break and enjoy some good food at the festival. Several of the restaurants also host entertainment during and after the festival including Ramshead Tavern with music on the back patio, 49 West Coffeehouse and Gallery with an art reception, Tsunami with gospel sushi and Reynolds Tavern with their movie night. Also new this year is the Great Frogs Wine Garden located next to Stan and Joe's Saloon. Here you will be able to sample wines made in Annapolis and purchase wine by the glass or bottle.
There are several art galleries and museums with new exhibits in and around the Annapolis Arts District to check out, including Banneker Douglas Museum, ArtFarm, The Annapolis Collection Gallery,  Whitehall Gallery, Nancy Hammond Gallery and Fin Art. Plus a new interactive experience Mission Room Escape that is now appearing on many peoples must do list. Stop in the visitors center on West Street for a map of all the art galleries, museums and attractions in downtown Annapolis.
The First Sunday Arts Festivals are conveniently located in downtown Annapolis on West Street and Calvert Streets where parking is a breeze. There are five large parking garages including Whitmore, Gott's Court and Loews Hotel parking garages located on the festival grounds and Knighton and the State Parking Garages within a 1 to 3 block stroll from the festival. Plus with so many Annapolis' locals attending the festival, many just walk, bike or take the bus in from the surrounding  Annapolis communities . The high numbers of locals attending also means you will find a lot of friendly pets joining their families and friends at the First Sunday Arts Festivals.
The holiday weekend celebrations continue on West Street and the Annapolis Arts District on Monday the 4th with the July 4th parade starting on West Street at 6:30pm.
Admission to the First Sunday Arts Festivals is always free, so bring your friends and family to spend a day out on the town. Free parking is available at the State Parking Garage located at 19 St. John Street. This years festivals will be on the first Sunday of each month through November with a bonus festival on the first Sunday of December called the Annapolis Chocolate Binge Festival. First Sunday Arts Festivals hours are 11am to 5pm on Sundays July 3, August 7, September 4, October 2, November 6 and December 4 from noon to 5pm.
The First Sunday Arts Festivals are sponsored by the Inner West Street Association and Great Frogs Winery and managed by Evans Management LLC
The Inner West Street Association sponsors additional community focused events and organizations including Sunday Gospel in the Park, Dixie Hotel Thursday Night Jazz, Dinner Under the Stars, Annapolis Fringe Festival, the Annapolis Chocolate Binge Festival and the Annapolis Arts District.
For more information and updates visit www.firstsundayarts.com
[blackwall-hitch-rotating-ad]
Category: Entertainment, Events, LIFE IN THE AREA, Local News, NEWS, Post To FB