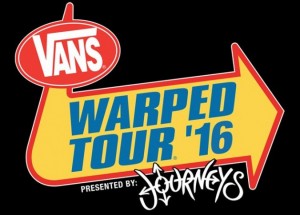 The complete lineup for the 2016 Vans Warped Tour®, Presented by Journeys® has finally been revealed. The tour will stop at Merriweather Post Pavilion Saturday, July 16. Tickets are on sale now through ticketfly.com and at the Merriweather Post Pavilion, 9:30 Club and Lincoln Theatre box offices.
With a lineup that in many ways signals a return to the tour's roots, the 22nd edition of Warped Tour welcomes back several fan favorites, including: New Found Glory, Tonight Alive, Less Than Jake, Yellowcard, We The Kings, Sleeping With Sirens, Falling In Reverse, Four Year Strong, Reel Big Fish and Pepper, to name a few.
The new Monster Energy Party Zone will present festival-goers with two stages of heavy music from bands such as Every Time I Die, Motionless In White, The Color Morale, Chelsea Grin and many more.
In keeping with its longstanding tradition of bringing music fans the best of newer, up-and-coming acts, this year also includes bands like State Champs, Like Pacific, In Hearts Wake, Capsize and From Ashes To New, plus much more.
"Who would have thought that we would be still bringing you the Vans Warped Tour in 2016? Each year I look forward to the summer and the chance to tour with so many old friends and hopefully some new ones." says tour founder Kevin Lyman.
Jim Estepa, President and Chief Executive Officer of Journeys, adds, "As our partnership with Vans Warped Tour grows, we are thrilled to make the jump forward to naming both of the main stages this summer. The visibility, brand growth and full integration that we've been able to build into the program with the Warped team has been not only practically beneficial, but also an incredibly fun relationship to build. Over the years that we've worked together, we've grown our promotional presence, grown the offerings that we can make to our employees, grown our retail partnerships to include ticket sales in multiple markets and now grown to be the name partners of the main stages. It feels like a natural next step for us and we are excited to see what the future brings!"
As part of its ongoing mission to help those in need and encourage positive social change, the Warped Tour's charitable organization Unite The United will be launching a charity auction to aid LA band The Ghost Inside in their efforts to recover from a devastating bus collision that occurred while out on tour last November. The auction will kick off on May 19th at www.Ebay.com/unitetheunited. 
For the full list of confirmed artists, dates and venues, visit
Tickets for the VANS WARPED TOUR 2016 are now on-sale and can be purchased at www.vanswarpedtour.com.
The 41-date trek launches in Dallas, TX on June 24 and concludes on August 13 in Portland, OR. All dates/venues in between can be found on the itinerary included below.
The Vans Warped Tour®, presented by Journeys®, is well known as America's longest running touring music festival of the summer. Since 1995, the tour has been a showcase for both established and up and coming talent, across a wide range of eclectic sub-genres.
The tour has also cemented its place in history by bringing alternative rock and skate culture from the underground to the forefront of global youth culture, while at the same time helping those in need through non-profit and eco initiatives.
Alternative Press readers voted the Vans Warped Tour as the "Best Tour/Festival" and Rolling Stone called it "America's Most Successful Festival". Now in its 22nd year, the 41-date tour will commence June 24 in Dallas, TX and end on August 13 in Portland, OR.
The lineup for the 2016 Vans Warped Tour is:
Journeys Left Foot Stage
Falling In Reverse 6/23-8/13
Four Year Strong 6/24-8/13
Less Than Jake 6/24-8/13
New Found Glory 6/24-8/13
Reel Big Fish 6/24-8/13
Set It Off 6/24-8/13
Sum 41 6/26-8/7
We The Kings 6/24-8/13
Yellowcard 6/24-8/13
Journey's Right Foot Stage
ISSUES 6/24-8/13
Mayday Parade 6/24-8/13
Pepper 6/24-6/29, 7/1-7/22
Real Friends 6/24-8/13
Sleeping with Sirens 6/24-8/13
State Champs 6/24-8/13
The Maine 6/24-8/13
The Story So Far 6/24-8/13
Tonight Alive 6/24-8/13
Monster Energy Party Zone North Stage
Crown The Empire 6/24-8/13
Every Time I Die 6/24-8/13
Ice Nine Kills 6/24-8/13
Motionless In White 6/24-8/13
The Color Morale 6/24-8/13
The Word Alive                 6/24-8/13
Volumes 6/24-7/17
Whitechapel 6/24-8/13
Monster Energy Party Zone South Stage
Chelsea Grin 6/24-8/13
Coldrain 6/24-8/13
Cruel Hand 6/24-8/13
From Ashes To New 6/24-8/13
Gideon 6/24-8/13
In Hearts Wake                 6/24-8/13
Oceans Ate Alaska 6/24-8/13
Vanna 6/24-8/13
Veil Of Maya 6/24-8/13
Full Sail Stage
Avion Roe 6/24-7/21
Bad Seed Rising 6/24-7/27
Broadside 6/24-8/13
Cane Hill 6/24-8/13
Dash Ten 6/24-8/13
Hail The Sun 6/24-7/16
Like Pacific 6/24-8/13
Mother Feather                 6/24-8/13
Old Wounds 6/24-8/13
Palaye Royale 6/24-8/13
Reckless Serenade 6/24-8/13
Safe To Say 6/24-8/13
Silent Planet 6/24-7/17
Wage War 6/24-8/13
With Confidence 6/24-8/13