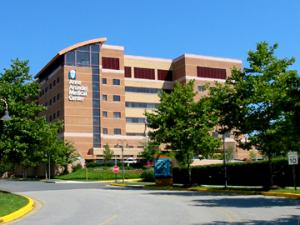 Anne Arundel Medical Center's (AAMC) Adrian Park, MD, chairman of the Department of Surgery, recently received an Arnold P. Gold Foundation – SAGES Award for Clinical Excellence and Humanism in Medicine. The award was presented at the Society of American Gastrointestinal and Endoscopic Surgeons (SAGES) annual meeting.
The award is given each year to practicing physicians recognized by peers for excellence in surgical endoscopic skills, patient care, contributions to community and volunteerism.
Dr. Park is a pioneer in advancing the techniques of laparoscopic foregut surgery, incisional hernia repair, and abdominal solid organ removal. He is internationally known as a leading authority in the field of minimally invasive surgery, "operating room of the future" technology and surgical education.  He has more than 20 medical patents, many for surgical devices used today.  Dr. Park is the author of over 200 scientific articles and book chapters, and is co-editor in chief of the journal, Surgical Innovations.  
Dr. Park is a member of the American Surgical Association, and is a fellow of the Royal College of Physicians and Surgeons of Canada, American College of Surgeons and the College of Surgeons of East, Central and Southern Africa. He serves on the American College of Surgeons governing body for the accreditation of all simulation centers in the U.S.  Dr. Park is also past president of the Pan-African Academy of Christian Surgeons (PAACS), an organization that trains African surgeons. In addition to surgical mission trips for both operating and teaching, Dr. Park works to ensure the integrity, quality, and success of the surgeon trainees and to expand the availability of sustainable, indigenous high-quality surgical care in countries in need of well-trained surgeons.
[do action="blackwall-hitch"/]
Category: Local News, NEWS