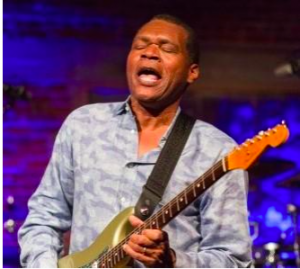 The Chesapeake Bay Blues Festival 2016 Lineup Is Complete!!
With the addition of The Robert Cray Band as the Saturday closer for the 2016 Chesapeake Bay Blues Festival (CBBF),  the lineup is now complete.  This will be Robert Cray's second appearance at CBBF, his first being in 2000.  Joe Bonamassa will be closing the festival on Sunday. 
In just over 40 years Cray and his band have recorded 20 studio releases, 15 of which have been on the Billboard charts, and played bars, concert halls, festivals and arenas around the world. There are five Grammys with Cray's name on them, and he has a suitcase full of W.C. Handy blues awards. Four years ago Cray was inducted into the Blues Hall of Fame. 
It was the sounds of the blues and soul that first drew attention from artists in the rock arena. In an interview on the DVD included in 4 Nights of 40 Years Live, Eric Clapton gives his initial response to Robert Cray saying, "As a blues fan, we're saved." The Cray Band's beginnings did bring the sounds of its mentors into the mainstream, even taking the music of John Lee Hooker, Etta James and Albert Collins to a larger, younger audience. But no one knew how broad the band's audience would be until the Cray Band opened the ears of rock radio programmers. With the 1986 release of Strong Persuader the Cray Band's tunes were put in heavy rotation on mega rock stations across the nation. The first hit, "Smoking Gun," was followed by "I Guess I Showed Her" and "Right Next Door (Because of Me)."
Full Festival Line-Up:
Appearing Saturday:
Robert Cray Band     
John Mayall
The Mavericks
Sonny Landreth  
Mud Morganfield
Danielle Nicole
The Chesapeake Bay Dixie Band featuring Patty Reese with the Dixie Power Trio and New Line Brass Band 
Appearing Sunday:
Joe Bonamassa
Tab Benoit 
Canned Heat
Heritage Blues Orchestra
Dana Fuchs
Ronnie Baker Brooks
Michael McHenry Tribe
[do action="blackwall-hitch"/]