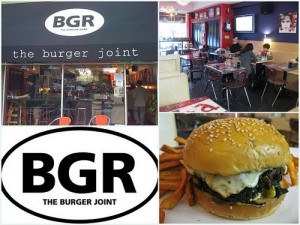 Burger lovers, rejoice – the award-winning BGR the Burger Joint is celebrating its one-year anniversary in Annapolis by giving away 100 free burgers. Located at 2101 Somerville Road, the restaurant will give the first 100 people in line Tuesday, Feb. 9 at 11 a.m. a free "The Burger."
BGR prides its menu on serving exclusively USDA prime, dry aged beef grilled to perfection over an open flame. Named the No. 1 burger restaurant in Washington D.C. year after year by multiple sources, BGR's unique menu features not only traditional beef burgers, but also sushi grade ahi tuna, lamb, turkey, chicken, made-from-scratch veggie burgers and other high quality specialty burgers. Guests are able to build their own BGR burger or choose from a selection of masterpieces such as The Wellington, which features a BGR burger topped with caramelized onions, roasted mushrooms, black truffles and blue cheese crumbles.
"The Annapolis community has been incredibly welcoming ever since we opened our doors," said Topper Person, owner of BGR Annapolis. "We can't think of a better way to celebrate our one-year anniversary and show our appreciation for our guests than to give away our award-winning burgers." 
With a commitment to source local, the fast-casual burger restaurant serves its burgers on brioche buns exclusively from Gold Crust Bakery based in Hyattsville, MD. The menu also features award winning specialty milkshakes that are rotated monthly and offers healthy side options such as grilled asparagus or seasonal corn on the cob.
"BGR has been recognized all over the country for our unique menu that consists of only the highest quality ingredients, and appeals equally to men and women – as well as to families and business employees," said Ed Kelley, President of BGR Franchising. "We've already had a great response in Annapolis and can't wait to continue to provide our local guests with the best burger experience in town."
BGR the Burger Joint is open Sunday through Tuesday from 11 a.m. to 9 p.m. and Wednesday through Saturday from 11 a.m. to 10 p.m. To learn more about BGR, visit http://www.bgrtheburgerjoint.com or call 667-225-4186.
[do action="blackwall-hitch"/]
Category: Businesses, Events, LIFE IN THE AREA, Local News, NEWS, Post To FB