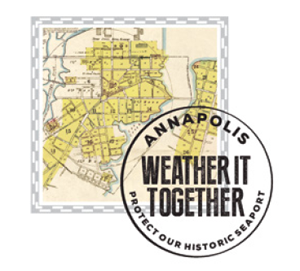 Mayor Michael Pantelides invites all residents to a free public lecture, addressing sea level rise and its impact on Annapolis and the Greater Chesapeake Region.
John Englander, noted oceanographer, author, and President of the International Sea Level Institute, will discuss how Annapolis is leading the way in planning for the protection of cultural assets and working with state and federal partners to Weather It Together.
The 4 p.m. lecture will be on Saturday, January 30 at the Francis Scott Key Auditorium at St. John's College, located at 60 College Avenue, in Annapolis. A 5 p.m. reception and book signing will follow. The event is free and open to the public and is cosponsored by the city of Annapolis and the Urban Land Institute-Baltimore Chapter.
This lecture is the first in a series of lectures scheduled for 2016, celebrating the 50th Anniversary of the passage of the National Historic Preservation Act of 1966. 
The State of Maryland Climate Change Commission has issued their 2016 Report to Governor Hogan for consideration in agency priorities and work plans. Building resilience and providing local governments the tools they need to address the negative impacts of Sea Level Rise, tidal flooding and increasingly intense storm events is one of the 4 priorities in their report.  The City of Annapolis is a leader in building a comprehensive model resiliency plan and is working with key state and federal partners to develop a community-based template for use by other Chesapeake Bay towns and historic seaports throughout the nation and the world.
[do action="blackwall-hitch"/]
Category: Events, LIFE IN THE AREA, Local News, NEWS, Post To FB