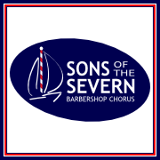 Quartets from the Sons of the Severn Barbershop Chorus are now taking orders for Singing Valentines throughout Anne Arundel and surrounding counties on February 12, 13 and 14, 2016 . Each Singing Valentine will include a silk rose, a Valentine's Day card with the sender's personal message, and two romantic songs in close harmony, sung by a genuine barbershop quartet in formal attire.
At a price of $50, a Singing Valentine offers an affordable alternative to the traditional flowers and chocolate. Singing Valentines may also be delivered via telephone (card and rose not included) for $15 each. The gift giver can choose the approximate time of delivery.
"People are always looking for that perfect gift, and in today's economy, cost is a big consideration for the giver," says Dave Bankard, the chorus's Singing Valentine coordinator. "We provide a unique and heartwarming Valentine's Day gift that has real value for a very reasonable price." The Sons of the Severn will deliver Singing Valentines to women (and men) in such diverse locations as offices, homes, car dealerships, banks, restaurants, firehouses, stores, nursing homes, and even hospitals.
"It's touching to see the look of surprise and tears of joy on a recipient's face when we start singing," says Joe Wise, who sings lead in the chorus.
To order a Singing Valentine, please visit www.singannapolis.com, call Mike at (443) 915-9100, or email [email protected]
The Sons of the Severn Barbershop Chorus is a non-profit educational organization under section 501(c)(3) of the internal revenue code. The annual Singing Valentines campaign is one of the organization's major fundraising efforts in support of their core mission to preserve and advance the American musical art form of barbershop harmony, and to encourage music education in the schools and communities of Anne Arundel County.
[do action="blackwall-hitch"/]
Category: Events, LIFE IN THE AREA, NEWS, Post To FB